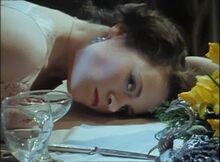 Yellow Iris is a Hercule Poirot short story written by Agatha Christie in the U.K. in The Strand Magazine in July 1937. In the U.S., the story was first published in the Hartford Courant in October 1937. It was later gathered and published in The Regatta Mystery and Other Stories in 1939 in the U.S. and then for Problem at Pollensa Bay and Other Stories in 1991 in the U.K.
Synopsis
Late at night, Poirot receives a call from a woman asking him to come urgently to the Jardin des Cygnes restaurant and look for the table with yellow irises.
Plot summary
(may contain spoilers - click on expand to read)
Poirot arrives at a party being held by a rich American, exactly one year since his wife Iris had been killed at a similar event. The only difference between now and then is the presence of Poirot – can he find her killer?
Characters
Research notes
This story was later expanded, with different characters and a slightly altered plot to form the basis of Sparkling Cyanide. This novel featured Colonel Race instead of Hercule Poirot.
Film, TV, or theatrical versions
BBC Radio Play
The Yellow Iris (radio play) is the name of a radio play written by Agatha Christie herself and based on the original story. It was broadcast on the BBC National Programme on Tuesday 2 November 1937 at 8.00pm. The one-hour programme was broadcast again two days later, this time on the BBC Regional Programme at 9.00pm. The script of this play remains unpublished.
Agatha Christie's Poirot
A television film with David Suchet as Poirot was produced as episode 3 in Series 5 of the ITV series Agatha Christie's Poirot, first broadcast on 31 January 1991.
Publication history
1937: The Strand Magazine, Issue 559, July 1937
1937: Hartford Daily Courant, 10 October 1937, under the banner "Poirot Wins Again" with the subtitle "Agatha sets her favorite detective to work on the 'Case of the Yellow Iris'".[1]
1939: The Regatta Mystery and Other Stories, Dodd Mead and Company (New York), 1939
1966: Ellery Queen's Mystery Magazine, vol. 48 no. 6, whole no. 277, Dec 1966, as "Hercule Poirot and the Sixth Chair".[2]
1991: Problem at Pollensa Bay and Other Stories, Harper Collins (London), November 1991
References
↑

The story may be viewed on the archives of Newspapers.com.