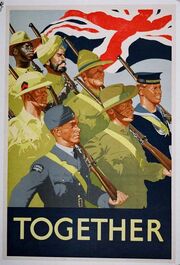 World War II, or the Second World War (often abbreviated as WWII or WW2), was a global war that was underway by 1939 and ended in 1945. It involved a vast majority of the world's nations—including all of the great powers—eventually forming two opposing military alliances: the Allies and the Axis.
World War II and Agatha Christie
During the Second World War, Christie worked in the pharmacy at University College Hospital, London, where she acquired a knowledge of poisons that she put to good use in her post-war crime novels. For example, the use of thallium as a poison was suggested to her by UCH Chief Pharmacist Harold Davis.
Around 1941–42, the British intelligence agency MI5 investigated Christie after a character called Major Bletchley appeared in her 1941 thriller N or M?, which was about a hunt for a pair of deadly fifth columnists in wartime England. MI5 was afraid that Christie had a spy in Britain's top-secret codebreaking centre, Bletchley Park. The agency's fears were allayed when Christie told her friend, the codebreaker Dilly Knox, "I was stuck there on my way by train from Oxford to London and took revenge by giving the name to one of my least lovable characters."
World War II in the works by Agatha Christie
Several works by Agatha Christie takes place during the war or in the aftermath of it.
4.50 from Paddington
Luther Crackenthorpe's son Edmund died during the war.
After the Funeral
Miss Gilchrist is forced to close her café, the Willow Tree.
A Murder is Announced
Charlotte and Letitia Blacklock spends the war at the Hotel des Alpes in Montreux.
N or M?
During the Second World Was Tommy and Tuppence Beresford worked for British Intelligence. They took residence at the Sans Souci hotel in Leahampton, on the English south coast, to try to uncover a German spy.
Taken at the Flood
One of the characters, Gordon Cloade, died in a bomb blast during the Blitz.