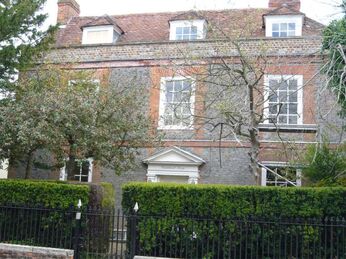 Winterbrook is a small hamlet in the parish of Cholsey, Oxfordshire, bordering the Thames on its east side, and at the southern end of Wallingford. The hamlet has an interesting history, going back to the Bronze Age, and distinctive character, with fine houses from the 18th and 19th century, and a farming tradition. The tranquil area, lined by mature trees, attracted novelist Agatha Christie and her archaeologist husband Max Mallowan to live in Winterbrook. Winterbrook's most famous resident was Agatha Christie, writer of detective crime novels, such as the Miss Marple and Hercule Poirot stories and the play The Mousetrap. She bought it with her husband Max Mallowan in 1934. Agatha Christie died there in 1976. Winterbrook House, a Queen Anne house (mid 18th century), was believed to be the model for Danemead, Miss Marple's house in the village of St. Mary Mead. It is a Grade II listed building.
Agatha and Winterbrook
Winterbrook House, described by Agatha Christie as "Max's house", was his and Agatha's for the remainder for both of their lives. They didn't stay at Winterbrook House for very long at first, having to return to Syria for more excavations. While they were in Syria (1938), Agatha Christie's daughter Rosalind came to help. She was enlisted by Max to make drawings of the painted pots they discovered on the dig, which later were reproduced in a book about the dig in Tell Brak, Syria. A thorough account of the work in Syria was detailed in Agatha Christie's book Come, Tell Me How You Live.
Agatha Christie died in 1976 in her home of Winterbrook House in Wallingford; the next year Max married Barbara Parker, who had served as his epigraphist at Nimrud and as secretary of the British School of Archaeology in Iraq, where Max also served as director from 1947 to 1961. That same year, 1977, his autobiography (Mallowan's Memoirs) was published. It gives a selective account of his life, chiefly his childhood, education, marriage, and career. He does say in it how Agatha Christie died, peacefully and gently, leaving him now with a feeling of emptiness after 45 years of a wonderful marriage. Max Mallowan also died in Wallingord, Oxfordshire, in 1978.
The graves of Bingo and Treacle, Christie's pet Manchester Terriers, are found in the garden of Winterbrook House.[1]
There is strong evidence that the house where Agatha Christie lived, Winterbrook House in the actual town of Wallingford, is the model for Danemead, which is Miss Marple's house in the village of St. Mary Mead. Moreover, Wallingford is believed to be the model for the fictional town of Market Basing, the site of a number of Agatha Christie's mysteries . St. Mary Mead, so Miss Marple tells us during the Nemesis case, is midway between the towns of Market Basing and another fictional town, Loomouth, on the southern coast. And, the actual town of Alton, Miss Marple further exclaims during the Nemesis case, is only about twenty-five miles from St Mary Mead.
References
↑ Laura Thompson, Agatha Christie, A Mysterious Life (London: Headline, 2007), Note 10 of chapter "English Murder".