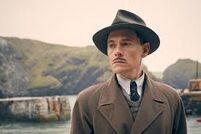 In the standalone novel And Then There Were None, Ex-inspector William Henry Blore was a retired police inspector, who was invited to Soldier Island. There he was accused of being responsible of the death of James Landor. Blore had accused Landor of a robbery he didn't commit to get a promotion. The latter died one year later in prison. Blore was described as a man of "a slightly military cast, with a moustache". Unlike the other guests, he was invited to the island in a professional way, to keep an eye on the guests. He introduced himself with a fake name, "Davis".
Role in the novel (may contain several spoilers)
He was killed with a heavy marble block shaped like a bear. He was the seventh guest to die in And Then There Were None.
Portrayals
In the 1945 And Then There Were None movie, he was played by Roland Young.
In the 1974 film adaptation of the novel, he was renamed Wilhelm Blore and portrayed by actor Gert Fröbe.
In the 2015 BBC miniseries of And Then There Were None, he was portrayed by Burn Gorman. Here, he isn't hit with a marble block but stabbed.