Flat 203 at 56B, Whitehaven Mansions is the home and office address of Hercule Poirot in the mid-1930s.
The earliest mention of Whitehaven Mansions is believed to be in The A.B.C. Murders[1]. In that book, Captain Hastings visited the place for the first time after arriving in England from Argentina in June 1935. Poirot had recently moved there.
Prior to that Poirot was known to have lived at Friar Mansions during the time of The Third Floor Flat, published in 1929.
Agatha Christie's Poirot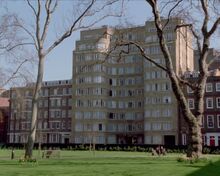 The real-life location used to represent the exterior of Whitehaven Mansions in the ITV series Agatha Christie's Poirot is Florin Court. In that series, a recurrent character is the porter Dicker.[2][3]
In the documentary Being Poirot, David Suchet says that Florin Court was chosen to recreate Whitehaven Mansions was not because of its location, but because of it being symmetrical[4][5].
References