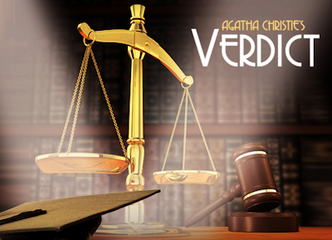 Verdict is a 1958 play by British mystery writer Agatha Christie. It is unusual for Agatha Christie plays in more than one way: for example, it is an original play, not based on a story or novel; and though there is a murder in the story, it is a melodrama more than a typical 'whodunnit' mystery as the murder takes place on stage.
It was first produced by Peter Saunders and directed by Charles Hickman, with decor by Joan Jefferson Farjeon. The play premiered at the Grand Theatre, Wolverhampton on 25 February 1958, before moving to the Strand Theatre, London on May 22, 1958. It ran for 250 performances. The play was also performed briefly at the Alexandra Theatre, Birmingham in early March 1958.
In 1987 the play ran in the Arena Players Main Stage Theater in East Farmingdale, New York, and in May 2009 it premiered with an international cast in Luxembourg's Abbaye de Neumunster.
Synopsis
The play tells the story of Karl Hendryk, a brilliant professor who, with his wife and her cousin, have fled persecution in their country. It is not explicitly mentioned that they are Germans persecuted by Nazis — and Agatha Christie has probably deliberately given the characters names that are not evidently traceable to any national origin. The professor is contentedly ensconced in a British university, where he is respected by students and faculty alike. His wife, Anya, an invalid suffering from a progressively debilitating disease, bitterly regrets having been forced to leave her home and her friends and is unhappy with all aspects of her life in England. Her cousin and close friend, Lisa Koletzky, has moved with them to care for Anya and to manage the professor's home. Karl and Lisa have suppressed feelings for each other, and the situation is further disturbed when a young rich student, Helen Rollander, takes on private lessons with the professor.
Synopsis of scenes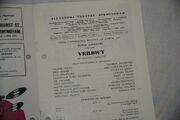 The action of the play passes in the living-room of Professor Hendryk's flat in Bloomsbury. Time: not clear but probably in the 1950s.
ACT I
Scene 1 - An afternoon in early spring
Scene 2 - A fortnight later. Afternoon.
ACT II
Scene 1 - Four days later. About midday.
Scene 2 - Six hours later. Evening.
Scene 3 - Two months later. Late afternoon.
1958 West End production
Cast of 1958 London production
2011 Agatha Christie Theatre Company production
The play was directed by Joe Harmston, and the set designer was Simon Scullion.
Cast
Robert Duncan as Karl Hendryk
Cassie Raine as Anya Hendryk
Dawn Steele as Lisa Koletzky (January - April 2011)
Susan Penhaligon as Lisa Koletzky (from May 2011)
Elizabeth Power as Mrs Roper
Matthew Lewis as Lester Cole (January - June 2011)
Lyndon Ogbourne as Lester Cole (from July 2011)
Martin Carroll as Sir William Rollander (January - March 2011)
Peter Byrne as Sir William Rollander (from March 2011)
Ali Bastian as Helen Rollander (January - April 2011)
Holly Goss as Helen Rollander (from May 2011)
Mark Wynter as Dr Stoner
Andrew Malik as Detective Inspector Ogden
Mark Martin as Police Sergeant Pearce
Publication history
The play was first published in 1958 in a paperback edition by Samuel French Ltd. as Acting Edition No. 833 priced at six shillings. It was first published in hardback in The Mousetrap and Other Plays by Dodd, Mead and Company in 1993 (ISBN 0-39-607631-9) and in the UK by HarperCollins in 1993 (ISBN 0-00-224344-X).