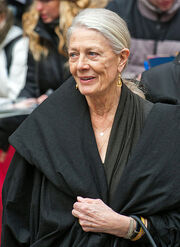 Vanessa Redgrave, CBE (born 30 January 1937) is an English actress of stage, screen and television, as well as a political activist.
She rose to prominence in 1961 playing Rosalind in As You Like It with the Royal Shakespeare Company and has since made more than 35 appearances on London's West End and Broadway, winning both the Tony and Olivier Awards. On screen, she has starred in more than 80 films; including Mary, Queen of Scots, Isadora, Julia, The Bostonians, Mission: Impossible and Atonement. Redgrave was proclaimed by Arthur Miller and Tennessee Williams as "the greatest living actress of our times," and she remains the only British actress ever to win the Oscar, Emmy, Tony, Cannes, Golden Globe, and the Screen Actors Guild awards. She was also the recipient of the 2010 BAFTA Fellowship "in recognition of an outstanding and exceptional contribution to film."[1]
A member of the Redgrave family of actors, she is the daughter of the late Sir Michael Redgrave and Lady Redgrave (the actress Rachel Kempson), the sister of the late Lynn Redgrave and the late Corin Redgrave, the mother of Hollywood actresses Joely Richardson (who played Joanna Farley, in the Agatha Christie's Poirot episode, The Dream) and the late Natasha Richardson, and the aunt of British actress Jemma Redgrave.
Personal life and family
Redgrave was born in Greenowich, London, the daughter of actors Sir Michael Redgrave and Rachel Kempson. Laurence Olivier announced her birth to the audience at a performance of Hamlet at the Old Vic, when he said that Laertes (played by Sir Michael) had a daughter. She was educated at the Alice Ottley School, Worcester & Queen's Gate School, London before "coming out" as a debutante. Her late siblings, Lynn Redgrave and Corin Redgrave, were also acclaimed actors.
Redgrave's daughters, Natasha Richardson (1963–2009) and Joely Richardson (b. 1965) from her 1962–67 marriage to film director Tony Richardson, also built respected acting careers. Redgrave's son Carlo Gabriel Nero (né Carlo Sparanero), by Italian actor Franco Nero (né Francesco Sparanero), is a writer and film director. She met Franco while filming Camelot in 1967, the year she divorced her husband Tony Richardson, who left her for the French actress Jeanne Moreau. Redgrave and Nero married on 31 December 2006.[2]
In 1967, Redgrave was made a Commander (CBE) of the Order of the British Empire. It was reported that she declined a damehood in 1999.[3]
From 1971 to 1986, she had a long-term relationship with actor Timothy Dalton, with whom she had starred in the film Mary, Queen of Scots.[4]
Within 14 months in 2009-10, she lost both a daughter and her two younger siblings. Her daughter Natasha Richardson died on 18 March 2009 from a traumatic brain injury caused by a skiing accident.[5][6] On 6 April 2010, her brother Corin Redgrave died, and on 2 May 2010, her sister Lynn Redgrave died.
Career
Stage
Vanessa Redgrave entered the Central School of Speech and Drama in 1954. She first appeared in the West End, playing opposite her brother, in 1958.
In 1959 she appeared at the Shakespeare Memorial Theatre under the direction of Peter Hall as Helena in A Midsummer's Night Dream opposite Charles Laughton as Bottom and Coriolanus opposite Laurence Olivier (in the title role), Albert Finney and Edith Evans. [7]
In 1960, Redgrave had her first starring role in Robert Bolt's The Tiger and the Horse, in which she co-starred with her father. In 1962 she played Imogen in William Gaskill's production of Cymbeline for the Royal Shakespeare Company. In 1966 Redgrave created the role of Jean Brodie in the Donald Albery production of The Prime of Miss Jean Brodie, adapted for the stage by Jay Presson Allen from the novel by Muriel Spark. She won four Evening Standard Awards for Best Actress in four decades. She was awarded the Laurence Olivier Award for Actress of the Year in a Revival in 1984 for The Aspern Papers
In the 1990s, her theatre work included Prospero in The Tempest at Shakespeare's Globe in London. In 2003 she won a Tony Award for Best Actress in a Play for her performance in the Broadway revival of Eugene O'Neill's Long Day's Journey Into Night. In January 2006, Redgrave was presented the Ibsen Centennial Award for her "outstanding work in interpreting many of Henrik Ibsen's works over the last decades."[8] Previous recipients of the award include Liv Ullmann, Glenda Jackson and Claire Bloom.
In 2007, Redgrave played Joan Didion in her Broadway stage adaptation of her 2005 book, The Year of Magical Thinking, which played 144 regular performances in a 24-week limited engagement at the Booth Theatre. For this, she won the Drama Desk Award for Outstanding One-Person Show and was nominated for the Tony Award for Best Performance by a Leading Actress in a Play. She reprised the role at the Lyttelton Theatre at the Royal National Theatre in London to mixed reviews. She also spent a week performing the work at the Theatre Royal in Bath in September 2008. She once again performed the role of Joan Didion for a special benefit at New York's Cathedral of Saint John the Divine on 26 October 2009. The performance was originally slated to debut on 27 April, but was pushed due to the death of Redgrave's daughter Natasha. The proceeds for the benefit were donated to the United Nations Children's Fund (UNICEF) and the United Nations Relief and Works Agency (UNRWA). Both charities work to provide help for the children of Gaza.
In October 2010 she starred in the Broadway premiere of Driving Miss Daisy starring in the title role opposite James Earl Jones. The show premiered on 25 October 2010 at the John Golden Theatre in New York City to rave reviews.[9] The production was originally scheduled to run to 29 January 2011 but due to a successful response and high box office sales, was extended to 9 April 2011.[10] In May 2011, she was nominated for a Tony Award for Best Performance by a Leading Actress in a Play for the role of Daisy in Driving Miss Daisy.[11] The play transferred to the Wyndham's Theatre in London from 26 September to 17 December 2011.[12]
In a poll of "industry experts" and readers conducted by The Stage in 2010, Redgrave was ranked as the ninth greatest stage actor/actress of all time.[13]
Early film work
Highlights of Redgrave's early film career include her first starring role in Morgan: A Suitable Case for Treatment (for which she earned an Oscar nomination, a Cannes award, a Golden Globe nomination and a BAFTA Film Award nomination); her portrayal of a cool London swinger in 1966's Blowup; her spirited portrayal of dancer Isadora Duncan in Isadora (for which she won a National Society of Film Critics' Award for Best Actress, a second Prize for the Best Female Performance at the Cannes Film Festival, along with a Golden Globe and Oscar nomination in 1969); and various portrayals of historical figures – ranging from Andromache in The Trojan Women, to Mary, Queen of Scots in the film of the same name. She also played the role of Guinevere in the film Camelot with Richard Harris and Franco Nero, and briefly as Sylvia Pankhurst in Oh! What a Lovely War.
Julia, The Palestinian and the Oscar controversy
In 1977, Redgrave funded and narrated a documentary film The Palestinian about Palestinians and the activities of the Palestinian Liberation Organisation. That same year she starred in the film Julia, about a woman murdered by the Nazi German regime in the years prior to World War II for her anti-Fascist activism. Her co-star in the film was Jane Fonda (playing writer Lillian Hellman), who, in her 2005 autobiography, noted that:

When Redgrave was nominated for an Oscar in 1978, for her role in Julia, members of the Jewish Defense League (JDL), led by Rabbi Meir Kahane, burned effigies of Redgrave and picketed the Academy Awards ceremony to protest against both Redgrave and her support of the Palestinian cause.[14]
Redgrave's performance in Julia garnered an Academy Award for Best Supporting Actress. Accepting the award, Redgrave said:
Later in the broadcast veteran screenwriter and Oscar presenter Paddy Chayefsky told the audience members that
In 1978, Rabbi Meir Kahane published a book entitled Listen Vanessa, I am a Zionist, which was later renamed Listen World, Listen Jew, in direct response to Redgrave's comments at the Academy Awards. To this day some Jewish groups, such as the Jewish Defense League, consider Redgrave an opponent and a supporter of terrorism, citing remarks she has made such as, "Zionism is a brutal, racist ideology. And it is a brutal racist regime."[15]
Later film career
Later film roles of note include those of suffragist Olive Chancellor in The Bostonians (1984, a fourth Best Actress Academy Award nomination), transsexual tennis player Renée Richards in Second Serve (1986); Mrs. Wilcox in Howards End (1992, her sixth Academy Award nomination, this time in a supporting role); crime boss Max in Mission: Impossible (1996, when discussing the role of Max, DePalma and Cruise thought it would be fun to cast an actor like Redgrave; they then decided to go with the real thing); Oscar Wilde's mother in Wilde (1997); Clarissa Dalloway in Mrs. Dalloway (1997); and Dr. Sonia Wick in Girl, Interrupted (1999). Many of these roles and others, garnered her various accolades.
Her performance as a lesbian mourning the loss of her longtime partner in the HBO series If These Walls Could Talk 2 earned her a Golden Globe for "Best TV Series Supporting Actress" in 2000, as well as earning an Emmy Award for Outstanding Supporting Actress in a TV Film or Miniseries. This same performance also led to an "Excellence in Media Award" by the Gay & Lesbian Alliance Against Defamation (GLAAD). The award honours "a member of the entertainment community who has made a significant difference in promoting equal rights for lesbian, gay, bisexual and transgendered people". In 2004, Redgrave joined the second season cast of the hit FX series Nip/Tuck, portraying Dr. Erica Noughton, the mother of Julia McNamara, who is played by her real-life daughter Joely Richardson. She also made appearances in the third and sixth seasons. In 2006, Redgrave starred opposite Peter O'Toole in the acclaimed film Venus. A year later, Redgrave starred in Evening and the acclaimed Atonement, in which she garnered a Broadcast Film Critics Association award nomination for her performance that only took up seven minutes of screen time. In 2008, Redgrave appeared as a narrator in an Arts Alliance production, id – Identity of the Soul. In 2009, Redgrave starred in the BBC remake of The Day of the Triffids, with her daughter Joely. In the midst of losing her daughter, Natasha Richardson, Redgrave signed on to play Eleanor of Aquitaine in Ridley Scott's version of Robin Hood, which began filming shortly after Natasha's death. Redgrave later withdrew from the film for personal reasons. The part was given to her Evening co-star Eileen Atkins.[16] She was next seen in Letters to Juliet opposite her husband Franco Nero.
She had small roles in Eva, a Romanian drama film that premiered at the 2010 Cannes Film Festival as well as in Julian Schnabel's Palestinian drama, Miral that was screened at the 67th Venice International Film Festival and played the role of Winnie the Giant Tortoise in the 2010 environmental animated film Animals United. She has a supporting role in the Bosnia-set political drama, The Whistleblower, which premiered at the 2010 Toronto International Film Festival. Both Miral and The Whistleblower are scheduled for U.S. theatrical release in 2011. Redgrave also narrates Patrick Keiller's semi-fictional upcoming documentary, Robinson in Ruins.