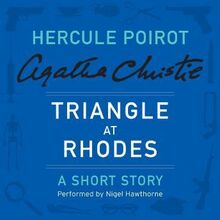 Triangle at Rhodes is a short story by Agatha Christie which was first published in The Strand Magazine, Issue 545, May 1936 under the title "Poirot and the Triangle at Rhodes." In 1937, the story was gathered as part of the anthology Murder in the Mews and Other Stories in the U.K. In the U.S., the story was published in 1937 by Dodd, Mead and Company as part of the anthology Dead Man's Mirror.
Synopsis
Poirot is in Rhodes, but his hope for a quiet holiday is interruppted when a love triangle emerges among the guests at his hotel.
Plot summary
(may contain spoilers - click on expand to read)
Wishing for a quiet holiday free from crime, Poirot goes to Rhodes during the low season in October where there are but a few guests. Aside from the young Pamela Lyall and Sarah Blake there is Valentine Chantry, a consciously beautiful woman who seems to swoon under the attentions of Douglas Gold. This is done at the expense of his own wife, Marjorie, a mildly attractive woman, and Valentine's husband Tony Chantry. This is the "triangle" that everyone observes, and it gets rather absurd with the two men vying for Valentine's favour. She seems to delight in the attention. Marjorie Gold soon wins the sympathy of many of the guests of the hotel as her husband is frequently in the company of Valentine, she confesses her own doubts about Valentine to Poirot. Poirot, however, warns her to flee the island if she values her life. The event comes to a head one evening, beginning when Gold and Chantry have a loud argument. Valentine and Marjorie return from a drive, and the former is poisoned by the cocktail her husband gives her. Gold is immediately suspected, as the strophanthin that kills Valentine is found in the pocket of his dinner jacket. Poirot notices otherwise, seeing that Chantry puts it in Gold's pocket just as everyone's attention is on his dying wife. Poirot gives this information to the police, and points out to Pamela Lyall that she was focusing on the wrong triangle. The real triangle was between Douglas, Marjorie and Chantry. Chantry and Marjorie were in love, but they could not get married as Douglas, a Catholic, would not consent to divorce. For this reason, Chantry and Marjorie decided to kill Valentine and ensure that Douglas was blamed for the murder. Also, Poirot's warning to Marjorie Gold was not because he feared she was a victim at risk of being murdered, but the opposite. He was warning her she would be caught, tried, and convicted as one of the culprits.
Characters
Film, TV, or theatrical versions
Agatha Christie's Poirot
A television film with David Suchet as Poirot was produced as episode 6 of Series 1 of the ITV series Agatha Christie's Poirot, first broadcast on 12 February 1989. The basic premise of the story was unchanged but more drama and action was woven into the plot.
Community content is available under
CC-BY-SA
unless otherwise noted.