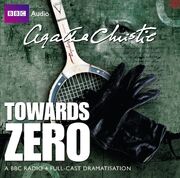 Towards Zero is a 2010 BBC Radio 4 adaptation of the novel by Agatha Christie. Dramatised by Joy Wilkinson. Directed by Mary Peate.
Against her better judgment, Lady Tressilian permits dashing Nevile Strange and his wife to come to her house party at the same time as his ex-wife, and sure enough, as soon as everyone arrives, the tensions are evident.
Lady Tressilian's house party is thrown into disarray by the death of her old friend Justice Treves. Meanwhile Nevile is feeling the strain of a house party with both his wife and his ex-wife in attendance.
Lady Tressilian is discovered murdered in her bed, leaving everyone in the house party very distressed. Inspector Leach leads the investigation.
Now Nevile is in the clear, suspicion has turned on Audrey for the murder of Lady Tressilian. But no-one can find her, and MacWhirter is convinced she's innocent.
Marcia Warren as Lady Tressilian
Tom Mannion as Tom MacWhirter
Claire Rushbrook as Audrey Strange
Julia Ford as Mary
Lizzy Watts as Kay Strange
Joseph Kloska as Latimer
Stephen Hogan as Royde
David Hargreaves as Treves/Constable
Philip Fox as Umpire/Butler/Inspector Leach
Annabelle Dowler as Receptionist
Benjamin Askew as Porter/Doctor Lazenby
Matt Addis as Sergeant
Community content is available under
CC-BY-SA
unless otherwise noted.