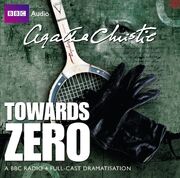 Towards Zero is a 2010 BBC Radio 4 adaptation of the novel by Agatha Christie. Dramatised by Joy Wilkinson. Directed by Mary Peate.
Episode 1
Against her better judgment, Lady Tressilian permits dashing Nevile Strange and his wife to come to her house party at the same time as his ex-wife, and sure enough, as soon as everyone arrives, the tensions are evident.
Episode 2
Lady Tressilian's house party is thrown into disarray by the death of her old friend Justice Treves. Meanwhile Nevile is feeling the strain of a house party with both his wife and his ex-wife in attendance.
Episode 3
Lady Tressilian is discovered murdered in her bed, leaving everyone in the house party very distressed. Inspector Leach leads the investigation.
Episode 4
Now Nevile is in the clear, suspicion has turned on Audrey for the murder of Lady Tressilian. But no-one can find her, and MacWhirter is convinced she's innocent.
Cast
Julia Ford as Mary
Joseph Kloska as Latimer
Stephen Hogan as Royde
David Hargreaves as Treves/Constable
Philip Fox as Umpire/Butler/Inspector Leach
Annabelle Dowler as Receptionist
Benjamin Askew as Porter/Doctor Lazenby
Matt Addis as Sergeant