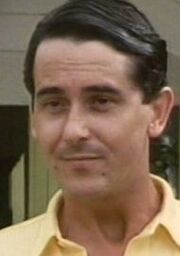 In the novel A Caribbean Mystery, Tim Kendal is a man in his thirties, married to Molly Kendal. He married her using false references and bought the Golden Palm Hotel with her, using her money.
Tim is described as being "lean, dark and in his thirties", and is "kindness itself" to Miss Marple, during her stay at the Golden Palm Hotel.
Although the service in the dining room is done mostly by women, Tim is present, keeping an attentive eye on everything, "pausing here and there to have a social word with people at their tables".
Tim reminds Miss Marple a little of the head waiter at the Royal George in Medchester, because he is self-confident, and at the same times, worried.
Tim worries that people will say that the hotel is not the same as when the Sandersons were running it, or that something might go wrong, like somebody drowning. He also mentions that they have risked everything on the hotel, and that he left his previous job to run the hotel. Molly assures him that they have got everything taped, with him charming the old pussies and acting like he would like to make love to the desperate forties and fifties, and her ogling the old gentlemen, or playing the sweet daughter the sentimental ones would love to have had.
After the death of Major Palgrave, Tim hears from Molly that Victoria Johnson claims that the bottle of Serenite tablets only appeared in his room after he died. Tim and Molly ask Dr Graham about it.
Miss Marple later finds Arthur Jackson having a drink with Tim. Tim tells her that he feels sorry for Jackson, and has to stand him a drink now and then to cheer him up. He also tells Miss Marple that he is worried about Molly, who has been having bad dreams. He suggests that Major Palgrave's death might have upset Molly, as she seemed like a different person since it happened.
One night, Tim discovers that Molly is ill, and thinks that she has taken an overdose of something. He goes to get Evelyn Hillingdon, and she tells him to get Dr Graham, and ask the staff to make strong coffee.
Tim is torn between his concern for his wife, and his commitments in running the hotel. He tells Dr Graham that he cannot understand Molly, and that she has changed "out of all seeming".
Tim later finds that Molly has gone missing during the night, and various guests and staff of the hotel search for her. A body is found in the creek, which is believed to be her. Tim is upset, and questions why Molly should stolen out in the night and drowned herself, when she had been so happy that morning.
The body in the creek is revealed to be Lucky Dyson, not Molly. Tim finds Molly alive in their bungalow. She is upset, having been to the creek and seen Lucky's body. She swears that she did not kill Lucky, and Tim gives her a glass of water to drink. However, as he approaches the glass to her lips, Miss Marple orders Jackson to take it away.
It is revealed that Tim was the murderer in Major Palgrave's story, and the man in the snapshot the Major had been about to show Miss Marple. Tim had heard the Major telling the story, and had seen that Major Palgrave recognised him. He poisoned Major Palgrave, and left a bottle of Serenite tablets in his room to suggest that his death was due to natural causes. He also spread rumours that Major Palgrave suffered from high blood pressure.
Victoria Johnson had seen Tim go into Major Palgrave's bungalow, and put a bottle there. Tim killed her to prevent her from telling what she knew.
Miss Marple explains that Tim had been planning to murder Molly all along. He had drugged her face cream, and left a book on nervous diseases where she would find it, to make her question her own sanity, and to suggest to other people that she was unbalanced.
Miss Marple further explains that Tim probably heard from Jackson that Esther Walters would inheirt money when Mr Rafiel died. He courted Esther, telling her that Molly was in love with another man, and probably promised to marry Esther in the future.
Portrayals
In the 1983 Warner Bros adaptation of A Caribbean Mystery, Tim is portrayed by Jameson Parker.
In the BBC 1989 adaptation of A Caribbean Mystery, Tim is portrayed by Adrian Lukis.
In the 2013 ITV adaptation of A Caribbean Mystery, Tim is portrayed by Robert Webb. The surname in this adaptation is spelled Kendall. In this adaptation, there were two motives for Tim Kendal's attempt to kill Molly. In the first place, Esther Walters who stood to inherit from Rafiel's will. In addition, Rafiel had been trying to buy over the hotel because the land contained valuable deposits of guano. Tim Kendal wanted the money but knew that Molly would not sell the hotel for sentimental reasons.