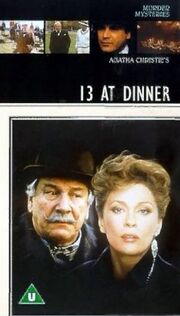 Thirteen at Dinner
is a 1985 American-British television film featuring the Belgian detective
Hercule Poirot
. Adapted from the
Agatha Christie
novel
Lord Edgware Dies
by Rod Browning it was directed by Lou Antonio and starred
Peter Ustinov
, Faye Dunaway,
Jonathan Cecil
, Diane Keen and Bill Nighy.
David Suchet
, later to play Poirot in the long-running television series entitled
Agatha Christie's Poirot
, played the role of Inspector Japp. Suchet considers his performance as Japp to be "possibly the worst performance of [his] career."
Faye Dunaway as Jane Wilkinson / Carlotta Adams
Bill Nighy as Ronald Marsh
Diane Keen as Jenny Driver
John Stride as Film Director
Benedict Taylor as Donald Ross
Lee Horsley as Bryan Martin
Allan Cuthbertson as Sir Montague Corner
John Barron as Lord George Edgware
Lesley Dunlop as Alice Bennett
Avril Elgar as Miss Carroll
Amanda Pays as Geraldine Marsh
John Quarmby as Sir Montague's Butler
Pamela Salem as Mrs. Wildburn
Lou Antonio as Movie Producer
David Frost as Himself
During a break, one day, Ustinov told Suchet, "You could play Poirot, you know, and you would be very good at it".
Community content is available under
CC-BY-SA
unless otherwise noted.