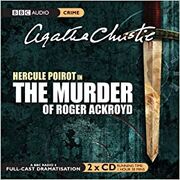 When Belgian sleuth, Hercule Poirot retires to the country to grow vegetable marrows, he soon discovers that someone has planted the seeds of treachery ....and of murder.
The novel was adapted as a 1½-hour radio play for BBC Radio 4 first broadcast on December 24, 1987. John Moffatt made the first of his many performances as Poirot. The adaptation was broadcast at 7.45pm and was recorded on November 2 of the same year.
Cast
John Woodvine as Doctor Sheppard
Laurence Payne as Roger Ackroyd
Diana Olsson as Caroline Sheppard
Eva Stuart as Miss Russell
Peter Gilmore as Raymond
Zelah Clarke as Flora
Simon Cuff as Inspector Davis
Deryck Guyler as Parker, the Butler
With Richard Tate, Alan Dudley, Joan Matheson, David Goodland, Peter Craze, Karen Archer and Paul Sirr
Community content is available under
CC-BY-SA
unless otherwise noted.