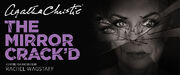 The Mirror Crack'd is a 2019 play.
Based on Agatha Christie's The Mirror Crack'd from Side to Side, this thrilling new play explores how we all colour our own memories, our own truths, to disguise the darkness that lies within. Co-produced by Wales Millennium Centre and Wiltshire Creative, The Mirror Crack'd opens at Salisbury Playhouse on 15 February 2019 with a European premiere, and tours to Dublin, Cambridge and Cardiff. Directed by Melly Still and adapted for the stage for the first time in the English language by Rachel Wagstaff, this rich, psychological drama features Susie Blake as Miss Marple.
Overview
Times are changing. Girls are wearing trousers and Hollywood has come to a sleepy English village in the shape of a beautiful film star. Miss Marple begins to question her place in the world until a mysterious death calls into question the past of all those present. Everyone's version of events is different. Can Miss Marple unravel the tangle of lies?
Original cast
Tour dates
15 February – 9 March 2019, Salisbury Playhouse
12 March – 16 March 2019 Gaiety Theatre, Dublin
19– 23 March 2019 Cambridge Arts Theatre
26 March – 6 April 2019 New Theatre, Cardiff
Trivia