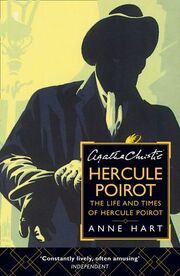 The Life and Timed of Hercule Poirot is a book written by Anne Hart.
Summary
'My name is Hercule Poirot and I am probably the greatest detective in the world.'
The dapper, moustache-twirling little Belgian with the egg-shaped head, curious mannerisms and inordinate respect for his own 'little grey cells' has solved some of the most puzzling crimes of the century. Yet despite being familiar to millions, Poirot himself has remained an enigma – until now.
From his first appearance in 1920 to his last in 1975, from country house drawing rooms to opium dens in Limehouse, from Mayfair to the Mediterranean, Anne Hart stalks the legendary sleuth, unveiling the mysteries that surround him. Sifting through 33 novels and 56 short stories, she examines his origins, tastes, relationships and peculiarities, revealing a character as fascinating as the books themselves.
The new edition (published in 2019) has been updated to include new information about original publication dates, newspaper and magazine serials, and up-to-date lists of film, TV, radio and stage adaptations (including David Suchet, Kenneth Branagh, John Malkovich, Tom Conti and Robert Powell).
Community content is available under
CC-BY-SA
unless otherwise noted.