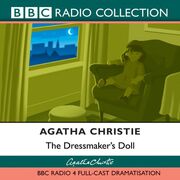 The Dressmaker's Doll is an adaptation of the short story by Agatha Christie. It was dramatised by Mike Walker and directed by Ned Chaillet. The music was composed and realised by Ben Wallfisch. The adaptation was broadcast by BBC Radio 4 - 10.03.2003 - 30mins.
Plot
When a doll with a mind of its own comes into your life, it might be worth finding out what it wants. Agatha Christie for the 21st century is no less chilling for moving to the driving rhythms of London's cat-walks in the cut-throat world of todays fashion.
Cast
Juliet Aubrey as Octavia Howard
Beth Chalmers as Sally
Stephen Critchlow as Jeremy
Gemma Saunders as Carrie
Emma Woolliams as Model
Connie Gurie as Amber
Community content is available under
CC-BY-SA
unless otherwise noted.