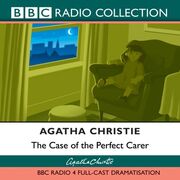 The Case of the Perfect Carer is an adaptation of the short story The Case of the Perfect Maid by Agatha Christie. It was dramatised by Mike Walker and directed and produced by Jeremy Mortimer. The music was composed and realised by Ben Wallfisch. It was broadcast by BBC Radio 4 - 17.03.2003 - 30mins
Plot
Renting a flat to elderly sisters in a converted dower house should be a simple job for an estate agent, but Kate finds Bernice anything but easy. Then valuables start to disappear.
Cast
Richenda Carey as Bernice
Joanna Monro as Carmela
Carla Simpson as Kate
Richard Firth as Tim
Joan O'Norman as Morag
Research notes
Joan O'Norman was included in the cast credits but is an anagram of Joanna Monro used to conceal one "character" being a disguise.
The original short story features Miss Marple.
Community content is available under
CC-BY-SA
unless otherwise noted.