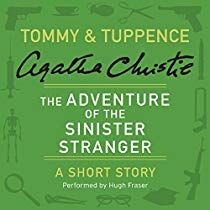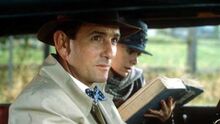 Bored with little to do at the agency, Tuppence receives a package. It is an engraved silver cigarette case to General Francis Haviland whom she drove in the First World War and who is getting married. Tommy's disparaging remarks about the General are interrupted by the arrival of the post and the first of the promised blue Russian letters. Their perusal of the letter is interrupted by the arrival of a large man with a club foot who states that he is Dr. Charles Bower of Hampstead. Twice in the last week he has been summoned away to an urgent case but on each occasion the call has been a hoax. On arriving back home, he has found signs that his study has been carefully searched in his absence, probably for papers he has on his studies of alkaloids, these papers being securely held in a secret drawer in his desk. He has received another summons to a patient who is now in Bournemouth but in checking on this summons he has found it to be another decoy. Another search of his study should therefore take place that night and Bower wants Blunts to be there when the third attempt is made.
Bower leaves and his club foot reminds Tuppence of the brothers Oakwood. Tommy resolves to be Desmond while she is Francis. Their next visitor is Detective Inspector Dymchurch from Scotland Yard, a colleague of Marriot's, who knows of the need to keep a watch on the blue letters and is following Bower. The doctor's real purpose is to decoy the Berefords away from their office that night in order that it can be searched and the latest letter retrieved. Tommy and Dymchurch make another plan to return to the office that night and catch the agents in the act. They do so but it is a trap and Tommy is bound. Dymchurch is a foreign agent with several of his men with him. Bower (real spelling, Bauer) is also one of his gang. He threatens Tommy with torture to reveal the whereabouts of the blue letter. He tells them that Tuppence has it and writes a letter summoning her to the office but he signs this 'Francis' and shows them the General's wedding present as proof that this is his real name and not Theodore Blunt. Tuppence arrives but, alerted by the false name in the note, she has brought Inspector Marriot with her and several armed policemen. 'Dymchurch' and his co-conspirators are arrested.
Dr. Charles Bower
Detective Inspector Dymchurch
Community content is available under
CC-BY-SA
unless otherwise noted.