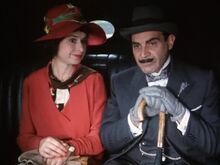 The Adventure of the Clapham Cook is a short story by Agatha Christie which was first published in The Sketch in 1923 in the U.K. It was then republished in a collection of short stories entitled The Second Omnibus of Crime edited by Dorothy L. Sayers in 1932. In the U.S., the story appeared as part of the anthology The Underdog and Other Stories in 1951. In the U.K., the story was gathered and published as part of the anthology Poirot's Early Cases in 1974.
Synopsis
Mrs Todd prods Poirot into investigating the disappearance of her cook. He tells Hastings this is something Chief Inspector Japp must never learn about!
Plot Summary
(may contain spoilers - click on expand to read)
Hercule Poirot is not interested in investigating some of the cases which appear in the newspapers and which Hastings tries to bring to his attention. These include a bank clerk named Davis who disappears with fifty thousand pounds of securities, a suicidal man and a missing typist. He is put on the spot though when visited by a Mrs Todd who is determined that he investigate her missing cook. Poirot refuses but Mrs Todd berates him for being too snobbish to concern himself with the case. With some humour, and suitable chastised, Poirot agrees to investigate.
Eliza Dunn, a middle-aged woman, walked out of her job and the Todd's house in Clapham two days ago without giving her notice and has not communicated with her employer since, except for sending for her trunk that day. Interviewing the maid in the house, Poirot finds out that the trunk was already packed, meaning that Eliza had planned to leave even though her departure was swift. The other occupants of the house are Mr Todd, who works in the city, and their lodger, Simpson, who works in the same bank at which Davis worked.
Struck by this coincidence as he is, Poirot cannot see a connection between an absconding bank clerk and a missing cook. A few days later, Mrs Todd writes to discharge Poirot from the case, giving him in payment a cheque for one guinea. Poirot is infuriated. He vows to complete the case even if it will cost him thirty-six thousand guineas.
Poirot places advertisements in the newspaper enquiring as to the whereabouts of Eliza. Several days she responds and calls on him and tells her story. A man man had approached her in the street as she was returning to the Todds' house one day. The man claimed to represent an Australian law firm. A friend of Eliza's grandmother had gone to Australia and married a wealthy settler. She had died and left Eliza a legacy, including a house in Carlisle and an income of three hundred pounds a year. This was conditional upon Eliza taking up the offer immediately and leaving domestic service. Persuaded by the man, she had immediately departed for Carlisle. A couple of days later received her belongings from Clapham, but they were wrapped in paper parcels and not in her old trunk, which she supposed had been kept behind by Mrs Todd in a fit of pique.
Poirot rushes back to Clapham with Hastings and explains matters on the way. Simpson was the one who stole the securities from the bank. He had then tricked Davis into meeting up with him and killed him. Simpson needed an old, inconspicuous trunk in which to hide the body and that meant tricking Eliza out of the way. It was Simpson in disguise who had approached her in the street. Simpson then hid Davis' body in the trunk and returned to work for a few days. With Davis being absent from the bank when the loss of the securities was discovered, suspicion would naturally fall on him.
Poirot and Hastings arrive at Clapham but Simpson has already disappeared. With the help of radio, Simpson is finally traced to the liner Olympia enroute for the US. The trunk with Davis' body inside is located at a Glasgow railway station.
Characters
Film, TV, or theatrical versions
Agatha Christie's Poirot
A television film with David Suchet as Poirot was produced as episode 1 in Season 1 of the ITV series Agatha Christie's Poirot, first broadcast on 8 January 1989. This was the very first episode in this long-running and comprehensive television series of Poirot stories.
Agatha Christie's Great Detectives Poirot and Marple
NHK produced a two episode anime adaptation of the story as episodes 28-29 of their Japanese anime series Agatha Christie's Great Detectives Poirot and Marple with the same title: The Adventure of the Clapham Cook (消えた料理人 - Kieta Ryōrinin). The episodes were broadcast between 27 February 2005 and 6 March 2005 and feature Poirot and Hastings assisted by Miss Marple's great niece Mabel West.
Publication history
1923: The Sketch, Issue 1607 (London), 14 November 1923
1925: The Blue Book Magazine, vol. 41 no. 5, Sep 1925, as "The Clapham Cook".[1]
1932: The Second Omnibus of Crime, Dorothy L. Sayers (ed.), Blue Ribbon Books (New York), 1932
1951: The Under Dog and Other Stories, Dodd Mead and Company (New York), 1951, Hardback, 248 pp
1956: Ellery Queen's Mystery Magazine, vol. 27 no. 2, whole no. 147, Feb 1956, as "Find the Cook".[2]
1957: Ellery Queen's Mystery Magazine (Australia), no. 115, Jan 1957, as "Find the Cook".
1974: Poirot's Early Cases, Collins Crime Club (London), September 1974, Hardcover, 256 pp; ISBN 0-00-231312-X
References