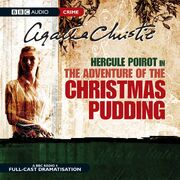 The Adventure of the Christmas Pudding by Agatha Christie. Dramatised by Michael Bakewell. Directed by Enyd Williams. It was broadcast by BBC Radio 4 in 2004.
Hercule Poirot does not care for the British weather at the best of times, but at Christmas he's convinced the only way to survive is to shut himself up in his London apartment.
Imagine his horror, then that to avert a diplomatic catastrophe, he must take on a case that means spending the festive period in a large old house in the countryside. Attending an old-fashioned dinner party, he must use all his powers of deduction to retrieve a stolen ruby.
Plot
In an attempt to avert a diplomatic catastrophe, it has been arranged for Hercule Poirot to attend an old-fashioned christmas house-party. Whilst there, he must use all his powers of discretion to try and retrieve a priceless stolen ruby - the legendary Heart of Fire...
Cast
Community content is available under
CC-BY-SA
unless otherwise noted.