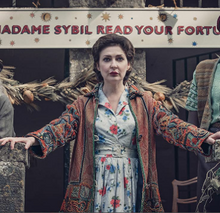 In the novel The Pale Horse, Sybil Stamfordis is a middle-aged woman who lives with Thyrza Grey and their cook Bella Webb in the village of Much Deeping in Devon. They share a house named "The Pale Horse", which was formerly an inn of the same name. Sybil and the two others in the house are considered to be the "resident witches" in Much Deeping.
According to Thyza Grey who is acknowledged by the villagers as the leader among the three, the three of them work as a team in matters of the occult. They each have different powers which they bring together to achieve their work. Thyza describes Sybil, who is of Greek extraction, as their "pythoness" and her special ability is that of a medium.
As part of their occult sessions, Sybil's part in creating "atmosphere" is by way of her exotic costumes, for example, "a tinsel turban and about a ton of fake Egyptian beads" or "saris and her scarabs". She also has a prop which she calls her "Asson", a dried gourd which she says is filled with snake vertebrae and which she uses as a rattle. This may be a little overdone. As Thyza said to Mark Easterbrook, Sybil was a silly woman in many ways and she took voodoo, demonology and black magic and mixed them up in a "glorious occult pie" but then she really "has the power" and was a powerful medium.
During seances, Thyrza addresses her as "Sybil Diana Helen", suggesting that this is perhaps her birth name, or since she is described as originally of Greek extraction, her name after marriage.
When Mark Easterbrook and Inspector Lejeune finally exposed the role of the three women in the murder-for-a-price racket with their occult activities as a smokescreen, they conclude that Sybil, like Bella Webb might not have understood their part in it and merely did as directed by Thyrza Grey. Mark Easterbrook noted that Sybil appeared to have a genuine gift of mediumship. She would go into a trance and didn't know what happened.
Portrayals
Agatha Christie's Marple
In the 2010 ITV adaption The Pale Horse (Episode 1, series 5 of Agatha Christie's Marple), Sybil Stamfordis is portrayed by Susan Lynch. Here, she and Thyrza Grey actually jointly own and run an inn named "The Pale Horse". She told Miss Marple that they had come across the inn during a walking tour and bought it some years before after the landlord sold out when his wife died. Like in the original, Sybil played the role of the medium. During the denouement, Sybil strenuously denied any complicity or knowledge in the "murder-for-payment" scheme. She said they did their seances only as a bit of fun. They pronounced curses on people merely using an item of the supposed victim's clothing. They did not even know the names of the people they cursed. Mark Easterbrook took part in one such seance and was told "no names". She did not know that they were being paid, nor of the connection with Mr Bradley.
Les Petits Meurtres d'Agatha Christie
In Le cheval pâle, the French Télévisions film adaptation of the novel for the series Les Petits Meurtres d'Agatha Christie, the parallel character is Irène.