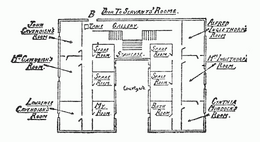 Styles Court is a large country estate in Essex, near the village of Styles St. Mary.
It was the ancestral home of the Cavendish family. It was the home of Emily Inglethorp and her husband Alfred. After her death it was inherited by her stepson, from her previous marriage to Mr Cavendish, John Cavendish. John inherited it and subsequently put the house up for sale.
It was later turned into a hotel, run by Colonel and Mrs Luttrell.
According to Hastings, Styles was a house with a very dark history, as four people died there: Mrs Inglethorp, Mrs Barbara Franklin, Stephen Norton and no one other than Hercule Poirot.
In The Mysterious Affair at Styles
Characters
Guests
Hosts
Arrangement
The large Victorian rooms at Styles were turned into smaller modern ones. The bathrooms were renewed, and the study room was turned into the laboratory of John Franklin. One of the only rooms that was kept like the original with the exception of new finishings was the one where Arthur Hastings stayed.
Trivia
The success of the novel would spawn other uses of the name. Archie and Agatha named their Berkshire home Styles.