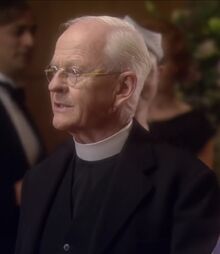 In the novel Three Act Tragedy, The Reverend Stephen Babbington was a vicar in Cornwall. He died after drinking a poisoned cocktail at a party. Initially he was believed to have died of natural causes. However, after the death of Sir Bartholomew Strange under similar circumstances, Rev Babbington's body was exhumed, and he was found to have been poisoned with nicotine.
He was about sixty years old, and was described as having "kind faded eyes and a disarming diffident manner".
He was born in Islington, Devon, in 1868. He was educated at St. Paul's School and Oxford University. In 1891 he was ordained Deacon and received a title to the Parish of Hoxton, and in 1892 he was priested. From 1894-1899 he was a curate at Eslington, Surrey, to Rev Vernon Lorrimer. Rev Lorrimer was the father of Margaret, and Stephen fell in love with her. In 1899, Stephen and Margaret married, and he was presented to the living of Gilling, Kent. In 1916, he was transferred to the living of St. Petroch, Loomouth. He and Margaret had four children, Robin, Edward, Lloyd, and Stephen.
Portrayals
In Murder in Three Acts (1986), Rev Babbington was played by Philip Guilmant. In this adaptation, the poison used was "Benzotine", a pesticide used for treating orchids.
In the film adaptation of Three Act Tragedy in Series 12 of ITV's Agatha Christie's Poirot drama series, the part of Rev Babbington is played by Nigel Pegram.
In Drame en trois actes, the TV film adaptation of the novel by France Télévisions, the parallel character is Léon Verneuil.