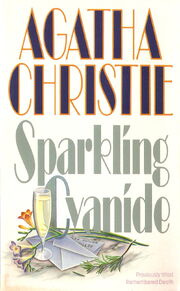 Sparkling Cyanide is a work of detective fiction by Agatha Christie and first published in the US by Dodd, Mead and Company in February 1945 under the title of Remembered Death and in UK by the Collins Crime Club in the December of the same year under Christie's original title. The US edition retailed at $2.00 and the UK edition at eight shillings and sixpence (8/6 - 42½p).
The book features the recurring character of Colonel Race for the last time and was an expansion of a Hercule Poirot short story entitled Yellow Iris which had previously been published in issue 559 of the Strand Magazine in July 1937 and in book form in The Regatta Mystery and Other Stories in the US in 1939. It was published in the UK in Problem at Pollensa Bay in 1991. The full-length novel omits the character of Poirot, substituting Colonel Race as the central investigative character instead.
The novel uses the basics of the short story, including the method of the poisoning, but changes the identity of the culprit(s) - not for the first time, when Agatha Christie rewrote her own work.
Introduction
Rosemary is for remembrance...
Eleven months have passed since the death of the young and beautiful Rosemary Barton, and her memory is still on her family and friends' mind. Suddenly, a series of anonymous letters make clear that her death was not due to post-flu depresson, as the enquiry declared, but of murder. But who could have wanted Rosemary's death? A betrayed husband, a jealous sister, an annoyed lover, or a vindictive wife? Or perhaps Rosemary had really decided to kill herself because a dark secret was tormenting her? What is clear is that none of the people who attended the dinner party at the Luxembourg that night were exactly who they said they were. But truth will come up only after a fatal reconstruction of the crime...
Plot summary
(may contain spoilers - click on expand to read)
One year ago on 2 November, six people sat down to dinner at the restaurant "Luxembourg". One of them, Rosemary Barton, never got up. She was thought to have committed suicide due to post-flu depression. Her husband, George Barton, received anonymous letters saying that Rosemary did not kill herself but was murdered. George started to investigate and decided to reconstruct the dinner at the same restaurant, inviting the same people as well as an actress that looked like his late wife. The actress did not arrive and that night George died at the table - poisoned, like his wife, by cyanide in his glass.
His death would have been dismissed as suicide as well if not for the investigation of his friend Colonel Race. During the investigation it is revealed that the intended victim was Rosemary's young sister Iris. Due to a stipulation of her uncle's will as Rosemary died childless her inherited fortune passed to her teenage sister when she died. If Iris had died at the table as intended the money in turn would have passed to her aunt Mrs. Drake. Mrs. Drake is very much at the mercy of her lazy son Victor, who often threatens to commit suicide when he needs money from his mother. Colonel Race and Iris's suitor, Anthony Browne, discover that Victor had planned the murder together with his lover Ruth Lessing, who was also George's secretary.
The plan failed because when the group went to dance Iris dropped her bag and the waiter that retrieved it placed it a seat away from where she was before she went to dance. When the companions returned to the table, George sat at Iris's original place and drank the poisoned champagne. In order to confirm the suicidal nature of the death Ruth had planted a pack of cyanide in Iris's bag and Victor had disguised himself as a waiter in order to poison the champagne. When this failed, Ruth then attempted to run over Iris with a car.
Eventually, Colonel Race together with Chief Inspector Kemp and Anthony Browne unravel the truth and save Iris from being gassed to death by Ruth, who had knocked her out, trying to stage her "suicide'. The anonymous letters to George were sent by Ruth in order to convince him to re-stage the dinner at Luxembourg so that Victor and Ruth could try to kill Iris.
Characters
Members of the dinner parties at the Luxembourg restaurant
Other important characters
Giuseppe Bolsano - headwaiter at the Luxembourg restaurant. He has a wife and three children.
Minor characters
Customers of the Luxembourg
Literary significance and reception
The book was not reviewed in The Times Literary Supplement.
Maurice Richardson, in the 13 January 1946 issue of The Observer wrote, "Agatha Christie readers are divided into two groups: first, fans like me who will put up with any amount of bamboozling for the sake of the pricking suspense, the close finish, six abreast, of the suspect race, and the crashing chord of the trick solution; second, knockers who complain it isn't cricket and anyway there's nothing to it.
Fans, I guarantee will be quite happy with Sparkling Cyanide, a high income group double murder, first of wayward smarty Rosemary, second of dull husband George at his lunatic reconstruction-of-the-crime party. It is too forced to rank with her best Number One form, but the suspect race is up to scratch and readability is high. Making allowances for six years of spam and cataclysm, quite a credible performance."
An unnamed reviewer in the Toronto Daily Star of February 24, 1945 said, "Suspense is well maintained and suspicion well divided. While this mystery lacks Hercule Poirot, it should nevertheless please all Agatha Christie fans, especially those who like the murders in the fast, sophisticated set."
Robert Barnard: "Murder in the past, previously accepted as suicide. Upper-class tart gets her come-uppance in smart London restaurant, and husband later suffers the same fate. Compulsively told, the strategies of deception smart as a new pin, and generally well up to 'forties standard. But the solution takes more swallowing than cyanided champagne."
References to other works
At one point Lucilla Drake mentions Dr Gaskell when talking to Iris Marle, and later changes argument and remembers the pharmacist. Indeed, Iris states that Lucilla has a peculiar way of thinking, and remarks that if she had asked why Dr Gaskell reminded her of the grocer, Lucilla would have said "because the grocer's name is Cranford". This is a reference to Cranford, a novel by Elizabeth Gaskell.
Film, TV, Radio and theatrical adaptations
1983 film
In 1983, CBS adapted the book for television, directed by Robert Michael Lewis, set in the modern day and starring Anthony Andrews as the central character, Tony Browne. This adaptation did not feature Colonel Race.
2003 adaptation
In late 2003, it was loosely adapted by Laura Lamson for ITV1, again in a modern setting, and involving a football manager's wife's murder. In this adaptation Colonel Race was renamed Colonel Geoffrey Reece, and given a partner, his wife, Dr. Catherine Kendall. The byplay between Reece (played by Oliver Ford Davies) and Kendall (played by Pauline Collins) was somewhat similar to Christie's characters Tommy and Tuppence.
Radio adaptation
In 2012, a three-part adaptation by Joy Wilkinson was broadcast on BBC Radio 4 directed by Mary Peate with Naomi Frederick as Iris, Peter Wright as George, Amanda Drew as Ruth, Colin Tierney as Anthony, James Lailey as Stephen, Sean Baker as Colonel Race and Jasmine Hyde as Rosemary.
Les Petits Meurtres d'Agatha
A French adaptation was made by Escazal Films and France Télévisions called Meurtre au champagne which formed part of the TV series Les Petits Meurtres d'Agatha Christie. Overall, it is one of the most faithful adaptations of the series. The major difference could perhaps be that all the names of the characters' names are changed. For example, George Barton changes to Georges Leroy, Ruth Lessing to Babette, Victor Drake to Victor Lebrun and Iris Marle to Violette. It starred Èlodie Navarre as Elvire Morenkova (Rosemary), Jean-Philippe Ècoffey as Georges Leroy, Samuel Labarthe as Commissaire Laurence, Blandine Bellavoir as Alice Avril, Hélène Medigue as Babette, Luis Inacio as Victor Lebrun, and Claude Perron as Claude Kerrigan (Lady Sandra Farraday?). There is no definite parallel of Chloe West but here Georges calls Alice Avril in.
Publication history
1945, Dodd Mead and Company (New York), February 1945, Hardback, 209 pp
1945, Collins Crime Club (London), December 1945, Hardback, 160 pp
1947, Pocket Books (New York), Paperback (Pocket number 451)
1955, Pan Books, Paperback, 159 pp (Pan number 345)
1955, Pan Books, Paperback, (Great Pan 156)
1960, Fontana Books (Imprint of HarperCollins), Paperback, 160 pp
1978, Ulverscroft Large-print Edition, Hardcover, 358 pp ISBN 0-7089-0223-5
2010, HarperCollins; Facsimile edition, Hardcover: 160 pages, ISBN 978-0-00-735470-2
The novel's first true publication was the serialisation in The Saturday Evening Post in eight instalments from 15 July (Volume 216, Number 3) to 2 September 1944 (Volume 217, Number 10) under the title Remembered Death with illustrations by Hy Rubin.[1]
The novel was first serialised, heavily abridged, in the UK in the Daily Express starting on Monday, 9 July 1945 and running for eighteen instalments until Saturday, 28 July. The first instalment carried an uncredited illustration.
International titles
Czech: Cyankáli v šampaňském (Cyanide in Champagne)
German: Blausäure (Cyanhydric Acid)
French: Meurtre au Champagne (Murder by Champagne)
Italian: Giorno dei morti ("Day of the Dead", reference to the day George Barton died)
Swedish: Cyankalium och champagne (Potassium cyanide and Champagne)
Portuguese (Brazilian): Um Brinde de Cianureto (A Cyanide Toast)
References