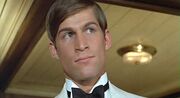 In the novel Death on the Nile, Simon Doyle was engaged to Jacqueline de Bellefort until he met Linnet Ridgeway. He was related to the Devonshire Doyles, and grew up on an estate. Since he was the younger son, he didn't have any money and had a dreary job at an office in the City. Jackie had Linnet employ Simon as her land agent. He broke off his engagement with Jackie to marry Linnet and went with her on a honeymoon onboard a steamer on the Nile.
Simon is described as a "tall, broad-shouldered young man, with very dark blue eyes, crisply curling brown hair, a square chin, and a boyish, appealing, simple smile". When he first meets Linnet, he looks at her with "naïve genuine admiration".
At the beginning of the novel, Poirot sees Simon and Jackie together at Chez Ma Tante. They are still engaged at that point, and discuss getting married and going to Egypt for their honeymoon. Poirot observes that Jackie cares too much for Simon, and that she loves him, and he lets himself be loved.
Later, after Simon has married Linnet, Poirot encounters them in Egypt, while they are on their honeymoon. Jackie has been stalking them, which Simon says idiotic. He tells Poirot that he would like to wring Jackie's neck, and that once he met Linnet, Jackie did not exist. He also says that Jackie cared too much for him, and that he did not like her possessive attitude.
Simon tells Poirot about his plan to avoid Jackie, which involves announcing that he and Linnet plan to stay at Assuan for ten days, when in fact they will join the steamer Karnak for a cruise up the Nile.
When Poirot is discussing motives for crime with Mrs Allerton, he says that if Simon committed a crime, it would be a direct shortcut to his objective, with no subtlety about it.
At the beginning of the cruise on the Karnak, Linnet tells Poirot that Simon is "absurdly sensitive" about money, and about her having so much. She says that he had wanted to go to a little place in Spain for their honeymoon, and pay the expenses himself.
During the cruise, Andrew Pennington asks Linnet to sign some documents. Simon sees that she reads through each document before signing, and says that he has never read a legal document in his life, he simply signs where they tell him to. He says that he has no business head, and that this is the simplest way to go about business. Pennington asks if this is risky, but Simon says that he is a trusting person, and it pays, because he has hardly ever been let down.
Simon and Linnet have a narrow escape at the temple of Abu Simbel, where a boulder falls from the cliff, almost crushing Linnet. However, Simon is able to drag her to safety just in time. He at first believes that Jackie was the one who caused the boulder to fall, but this is not the case, as Jackie was on the boat at the time.
On the night of the murder, Simon and Linnet play bridge in the saloon, with Colonel Race and Andrew Pennington. Simon becomes slightly distracted when Jackie enters the saloon, and his calling becomes slightly absent-minded. When Linnet and the others decide to go to bed, Simon stays in the saloon, saying he will have a drink first.
Jackie drunkenly argues with Simon, and he repeatedly tells her to go to bed. Jackie pulls out a pistol, threatening to shoot him, and he jumps up. She fires a shot, and Simon falls into a chair.
Simon requests Mr Fanthorp to tell the steward that everything is all right, and then to take Jackie to her cabin. Mr Fanthorp does so, and then asks Dr Bessner to come and attend to Simon.
Dr Bessner finds that the bone in Simon's leg is fractured, and that he has lost a lot of blood. Simon is unable to walk, so Mr Fanthorp and Dr Bessner carry him to the doctor's cabin.
Simon requests that someone stay with Jackie, as he is concerned that she might harm herself. He also asks Mr Fanthorp to return to the saloon to retrieve the gun, as he does not want the servants to find it in the morning.
The next morning, Simon tells Poirot and Colonel Race that there is someone on the boat whose father had been financially ruined by Linnet's father. Simon is also present when Poirot and Colonel Race interview Louise Bourget.
Louise tells Poirot and Colonel Race that if she had been unable to sleep, and had come up to the upper deck, she might have seen the murderer enter and leave Linnet's cabin, but as it was, she saw and heard nothing. She appeals to Simon, who tells her that he will look after her, and that no one is accusing her of anything.
Simon later asks Poirot to arrange for him to talk to Jackie. Jackie apologises to Simon for shooting him, and begins sobbing. Poirot leaves them alone.
After the death of Louise Bourget, Salome Otterbourne tells Simon, Poirot and Colonel Race that she saw someone leave Louise's cabin, and that person must be the murderer. Simon shouts at her to start at the beginning, and tell them what she saw. However, as she is on the point of naming the person she saw, someone shoots her.
After Poirot solved the case, Jackie shot Simon and then herself.
For more information on the case, consult Jacqueline de Bellefort's page.