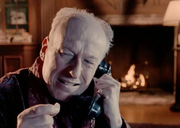 In the novel Hercule Poirot's Christmas, Simeon Lee was a cruel patriarch. He invited his family for Christmas. When Simeon is murdered Hercule Poirot is called in to investigate.
Simeon was described as having a "thin, shrivelled figure", and "long clawlike hands". He had white hair, and the skin of his face was yellow. His nose was "aquiline and proud", and his eyes had been "dark and intensely alive".
Backstory
(Editing In Progress

Character
(Editing In Progress)

Death
(Editing In Progress)

Portrayals
Lee was portrayed by Vernon Dobtcheff in the Agatha Christie's Poirot episode adaptation of the novel.
In Meurtres en solde, the France Televisions and Escazal Films adaptation of the novel, the parallel character is Simon Krepps who similarily was the patriarch of the Krepps family and the owner of Au Bon Temps in Lille.