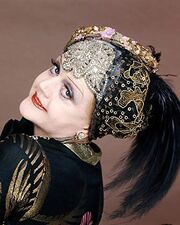 In the novel Death on the Nile, Salome Otterbourne was an author of romance novels. After staying in Jerusalem, she and her daughter Rosalie traveled onboard a steamer on the Nile.
Plot
Salome Otterbourne goes on the Karnak with her daughter Rosalie, she was once a acclaimed writer but her books no longer sell due to their cheaply devised erotic plots and now Linnet Doyle is suing her due to a character that resembles her despite Salome's protests. Rosalie is highly embarrassed by her Mother, trying her best to stop her making a fool of herself.
The day after the crime, she is told by Hercule Poirot, reminds her of her lawsuit and that without an alibi she is a suspect. It turns out she is an alcoholic and that Rosalie threw her secret supply overboard the night of the murder. After the death of Louise is announced, She claims she figured out who murdered Linnet, Simon yelled at her to start at the beginning, she then tells it like a story, how she was drinking outside Louise's cabin when she saw the killer enter the cabin, however she forget to say who the killer was and before she can, she is shot to death with Andrew Pennington's personal revolver.
Solution
It's revealed that Salome saw Jacqueline enter Lousie Cabin, however at the time she didn't realise the importance until she heard of Louise's death, then she went to tell Simon who shouted in order to alert Jacqueline who went to Pennington's Cabin for his revolver which he told everyone about, as Otterbourne would have to relish the chance to expose the truth made her a easy target.
Trivia
There are similarities between Salome Otterbourne and the author Elinor Glyn.
Portrayals
Death on the Nile (1978)
In the 1978 Ustinov adaptation, Salome Otterbourne is portrayed by Angela Lansbury. In this case, there is no secret about her drunkenness. She is often seen drinking heavily for example in the saloon boat.
Unique to this adaptation, she is also being sued by Linnet Doyle for libel--there are few details but it seems she has written Linnet Doyle as one of her characters in a racy novel entitled Passion Under the Persimmon Tree. She explained that her intention was merely to "show a young girl's heart beginning to beat to the primordial drum." She claimed the portrayal was quite flattering but as Linnet pointed out, it somehow likened her to "a nymphomaniacal baboon".
The libel suit gave her a motive for Linnet's murder and Poirot was able to demonstrate how she could have done the killing. Other than this, she played the same role as in the original except that in this case what she saw took place at night and not just before lunch. She said she was at the stern of the boat meeting one of the crew. She claimed the crew member was showing her an interesting sight--a buffalo and a camel yoked together tilling the ground. In reality, she was collecting some bottles of liquor. Just after this, she heard a scream and saw someone exiting Louise Bourget's cabin but, while narrating this to Poirot, she was shot before she could say more.
Death on the Nile (1997 Radio 4)
in the 1994 Radio 4 adaptation, Salome Otterbourne is portrayed by Shirley Dixon.
Death on the Nile (2004)
In the 2004 David Suchet adaptation, Salome Otterbourne is portrayed by Frances de la Tour. This portrayal is quite fairly to that in the original novel. She told Poirot that she was at the stern of the boat just before lunch getting "something" (liquor) from a crew member. She saw Louise Bourget poke her head out of her cabin and dart back in. She then saw someone knock on the maid's door. Again, Salome was shot before she could say more.
Death on the Nile (2022)
In the 2022 Kenneth Branagh adaptation, Salome Otterbourne is portrayed by Sophie Okonedo.