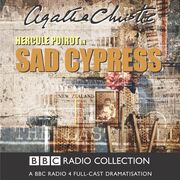 Sad Cypress was adapted as a five-part serial for BBC Radio 4 between 14 May and 11 June 1992. John Moffatt reprised his role of Poirot. The serial was broadcast weekly from Thursday, 14 May to Thursday, 11 June at 10.00am to 10.30pm. All five episodes were recorded in the week of 16 to 20 March 1992.
Adaptor: Michael Bakewell
Producer: Enyd Williams
Cast
Eric Allan
Jonathan Adams
Barbara Atkinson as Mrs Welman
Margot Boyd as Mrs. Bishop
John Church
Alan Cullen as the Judge
Keith Drinkel
John Evitts
Emma Fielding as Elinor Carlisle
Eamonn Fleming as Ted Bigland
David King
Pauline Letts as Nurse Hopkins
Peter Penry-Jones
David McAlister as Dr. Lord
Joanna Myers as Nurse O'Brien, and as the singer of the title song
Gordon Reid
Charles Simpson as Roddy Welman
David Thorpe
Gudrun Ure
John Webb as Mr Gerrard
Ann Windsor
Community content is available under
CC-BY-SA
unless otherwise noted.