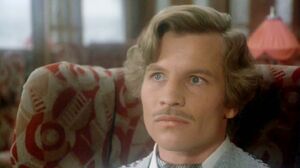 Count Rudolph Andrenyi is one of the main characters in Murder on the Orient Express.
Andrenyi has been played on screen by various actors, including Michael York, Kai Wiesinger, Stanley Weber, and Sergei Polunin.
Biography
Count Rudolph Andrenyi is a Hungarian nobleman and diplomat. Some time before the events on board the Orient Express, he had served in the Hungarian in Washington, D.C. for a year. Later, about one year before the events on the train, he married Helena Goldenberg. Poirot would later surmise that the Count had met and married Helena while serving in Washington but this was never confirmed.
Daisy Armstrong's Kidnapping
Helena was the younger sister of Sonia Armstrong and the aunt of her baby daughter Daisy Armstrong. After the kidnap and murder of Daisy Armstrong, a gangster named Cassetti was arrested and put on trial for the crime but got off on a technicality because of his wealth and influence. Linda Arden, Helena's mother and Daisy's grandmother, gathered a group of interested parties for the purpose of avenging the crime and bringing the criminal to justice. Helena joined the group with Andreyi's knowledge.
The Orient Express
Cassetti had adopted an assumed name of Samuel Edward Ratchett but the members of the group found him nonetheless. He travelled frequently to the Middle-east as an art collector. The plan of the group was to board the same train as Ratchett on one of his many trips to and from Europe and the Middle-east and execute justice on him enroute. Accordingly, Helena boarded the Orient Express together with the other members of the group. Andrenyi insisted on coming along. During the trip he was in first class Compartment 13 while his wife was in Compartment 12.
Andrenyi represented his wife at the murder of Ratchett. His wife Helena was at that time asleep after having taken some trional which. Andrenyi later also took pains to absolve his wife by insisting to Poirot that she had never left her compartment. When he learnt that Poirot had found a handkerchief with the initial "H" on it, he wanted to avoid suspicion being cast on his wife. He was also concerned that her link to the Armstrong family should remain undiscovered. His wife was travelling on his passport. He thus obscured the first letter in her name with a spot of grease, thus creating the impression that her first name was "Elena".
Portrayals
Murder on the Orient Express (1974)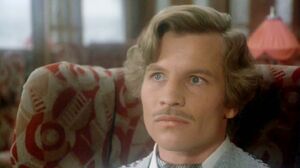 In the 1974 film, Count Andrenyi is played by Michael York. This portrayal is faithful to the original text. Similar to the novel, he loves his wife dearly, and is protective of her.
In the murder scene, Count Andrenyi receives the dagger from Greta Ohlsson, and hands it to his wife. She seems hesitant to take the dagger and to stab Ratchett, but eventually they stab him together. He says it is for the grief Ratchett brought to his beloved wife. Countess Andrenyi seems upset after stabbing Ratchett, and he consoles her.
Unlike the novel, where Count Andrenyi swears on his honour that his wife never left her compartment on the night of the murder, in this version, he holds his wife's hands in both of his, and they stab Ratchett together.
Murder on the Orient Express (2001)
In the 2001 TV movie, the name of this character is changed from Rudolph Andrenyi to Phillip von Strauss, and played by Kai Wiesinger. His nationality is changed from Hungarian to German.
Von Strauss hails from an old Berlin royal family with connections to Monégasque royalty. He and his wife live in Monaco, "a small country where one can easily get bored." They are adventure travellers and were in Turkey for sightseeing. In January 2002, they plan to go rafting in Borneo, and the following spring, they are going on an expedition at Mount Everest. 
Like in the novel (and also in the 1974 adaptation), Strauss is very protective of his wife. When Poirot learns that Elena is the sister of Sonia Armstrong, he at first refuses to allow him to speak to her but Elena overrides him and confesses to the fact. He was also the one who put a grease spot on Elena's passport to obscure the first letter "H" when he heard that a handkerchief with the letter "H" embroidered on it had been found in Ratchett's compartment. The handkerchief was not hers, but he was worried that Poirot would notice the "H" in the passport, and suspect her.
In the reconstruction of Ratchett's murder, Phillip was in Ratchett's compartment with Elena. Elena proved unable to go through with the stabbing and so Phillip took over from her. He was the third in sequence after Arbuthnot and MacQueen. He then handed the dagger to Señora Nina Alvarado. 
In spring 2002, Phillip and Helena almost succeed in scaling to the top of Mount Everest. Unfortunately, Phillip lost two toes to frostbite during the attempt. 
Agatha Christie's Murder on the Orient Express video game (2006)
In the 2006 video game adaptation, the count is voiced by Sean Donnellan.
According to his passport, his date of birth is 3 November 1899. His full name is Rudolph Josef Andrenyi. "Josef" does not appear in the book or any other adaptation. His occupation is stated as Diplomat. There is no grease spot and his wife's first name is really "Elena".
Agatha Christie's Poirot: Murder on the Orient Express (2010)
In the 2010 film, Count Andrenyi is played by Stanley Weber.
Murder on the Orient Express (2017)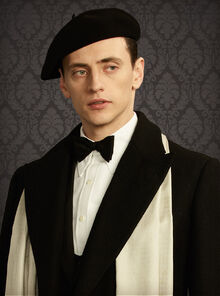 In the 2017 film, Count Andrenyi is portrayed by Sergei Polunin.
Physical Appearances
In the novel, Count Andrenyi is a tall, handsome man, standing 6 feet tall, with fair hair, a big moustache, high cheekbones, broad shoulders, and slender hips. He is about thirty years of age.
He wears a well-cut suit of loose English tweed, and a handkerchief in his right jacket pocket.
He loves his wife and is fiercely protective of her.
In the 1974 film, he has fair hair, grey-blue eyes, and a moustache.

He wears a striped grey single-breasted silk jacket, a grey double-breasted silk vest, a white shirt, a grey ascot, grey silk trousers, and dark grey oxford shoes.
He also wears a double-breasted camel hair coat lined in black and peach-colored paisley-printed satin, with peaked lapels, two frontal pockets, a kick pleat in the back.

In the 2001 TV movie, Phillip has dark brown hair and grey-blue eyes.

His main attire is a grey button-down shirt, a light blue t-shirt, medium-grey pants, and brown oxford shoes.
For his other scenes on the train, he wears a black suit, a white shirt, a grey tie, a silver wristwatch on his right wrist, and black oxford shoes.
For the outside scenes, he wears a solid black track jacket, a grey turtleneck sweater, and the grey pants and brown oxfords.
In the 2017 film, he has short dark brown slicked back hair in a receding hairline, green eyes, and a prominent nose.

Count Andrenyi does not actually have a main outfit for this movie, instead wearing 4 different outfits.
For his first scene, he wears a white 4x2 double-breasted dinner jacket with peak lapels and patch pockets, a black bowtie, a white spearpoint collar shirt, a low-cut black vest, black tuxedo trousers, and black oxford shoes.
For one of the train scenes, he wears a variegated brown scarf, a two-tone red sweater zip-jacket with blue knit sleeves and chest pockets, a white shirt, and a red tie.
For his pajamas, he wears a dark brown dressing gown, a white ribbed knit t-shirt, a golden ring on his right ring finger, and his black tuxedo trousers.
For the revelation scene, he wears a black flat cap, a grey Herringbone wool overcoat with a full-length fur collar, a brown wool blazer with notch lapels, a yellow v-neck knit cardigan with silver buttons, an electric blue dotted point collar shirt, a brown-and-gold patterned tie, dark brown leather gloves, and light grey trousers.
Research notes
In Hungarian, a Count is called a Gróf, so his name should be Gróf Andrenyi.
It is implied that Count Andrenyi is ambidextrous, as he writes with his right hand, but keeps his handkerchief in his right breast pocket. He would therefore be capable of stabbing with the left hand.
For the 1974 film, Count Andrenyi's coat was purchased from Bermans & Nathans, 18 Irving Street, Leicester Square, London, England.[1]
References