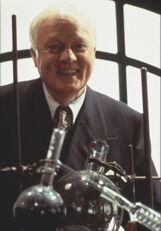 In the novel The Murder of Roger Ackroyd, Roger Ackroyd is the victim of the case. Described as "a person that looked like a coutry squire more than a country squire himself", Roger was a wealthy manufacturer that owned a wagon wheel industry. Roger was found stabbed in his study room. He lived at Fernly Park.
Roger Ackroyd's connection to other characters
Roger Ackroyd had one brother, Cecil. The latter died before the events of the story.
Cecil had a wife, Mrs Ackroyd, and a daughter, Flora. They lived at Fernly with Roger. They both were financially dependent on him.
Roger had married a woman, by the name of Paton, that had died through an alcohol overdose before the opening of the story. Ackroyd had also one son, Ralph Paton. He was actually Roger's stepson, which was referred to as his "adopted son". Roger Ackroyd later proceeded to create an engagement between Flora and Ralph.
Roger Ackroyd was a close friend of Mrs Ferrars and the Sheppards: dr James Sheppard and his nosy spinster sister Caroline. Mrs Ferrars killed herself at the opening of the story because she was getting blackmailed.
Servants at Fernly
Geoffrey Raymond, Roger's highly efficient secretary;
John Parker, the suspicious butler who was particularly fond of blackmailing;
Elizabeth Russell, Roger's housekeeper who repeatedly tried to marry him;
Ursula Bourne, the parlourmaid who was actually married to Ralph;
Elsie Dale and Gladys Jones; two housemaids that had worked for a long time at Fernly;
Emma Cooper, cook, and Mary Thripp, kitchenmaid.
Roger Ackroyd had good faith in all his servants.
Roger Ackroyd's last will
Roger declared that, upon his death:
His stepson Ralph stood to inherit Fernly Park, and the wheel company;
Flora Ackroyd received twenty thousand pounds;
Flora's mother, Mrs Cecil Ackroyd, inherited ten thousand pounds;
His secretary Geoffrey Raymond received five hundred pounds;
Elizabeth Russell, the housekeeper, inherited a thousand pounds;
The rest of his fortune was divided into charity donations and housemaids.
Role in The Murder of Roger Ackroyd
Spoiler warning: A spoiler is announced! The following section contains details about The Murder of Roger Ackroyd.
The Murder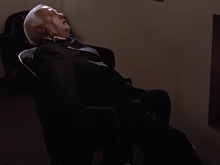 Roger Ackroyd called Dr Sheppard to talk about a letter that he had received from the deceased Mrs Ferrars. The letter said that Mrs Ferrars had killed her husband, and she was blackmailed. Sheppard was curious about who the blackmailer was, but Ackroyd wanted to read the letter alone. At 9:50 PM of September 17, James Sheppard left the study room. Behind the door he found the butler Parker trying to catch pieces from the conversation. After exiting Fernly Park, he saw a mysterious man with a trace of American accent in his voice which asked where was the house of Ackroyd. Sheppard later went home where his sister was waiting for him. At 9:30 PM, both Raymond and Blunt hear the voice of Roger Ackroyd which denied giving money to someone. At 9:45 PM, Flora Ackroyd went to the study room to talk with her uncle. This was confirmed by the fact that Parker had seen Flora exiting the study. At 10:00, Dr Sheppard received a call from an alarmed Parker saying that his employer was dead. This was confirmed by the doctors sister saw him responding to a call. When Sheppard arrived there, Parker claimed he didn't make such a call. Dr Sheppard then broke into the study and saw Ackroyd dead.
After the murder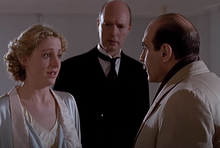 The call received by Dr Sheppard wasn't made by Parker since it had been done from the railway station of King's Abbot, which had direct train routed to Liverpool.
Poirot later proceeded to tell Flora Ackroyd that her uncle died, causing her to faint. Mrs Ackroyd, Flora's mother, was among the last people to know that Ackroyd was dead.
The prime suspect for the murder was Roger's stepson Ralph Paton mostly because he had mysteriously disappeared after the murder, and because he stood to inherit the most out of everyone in the will. The footprints found near the window were the ones of Ralph Paton.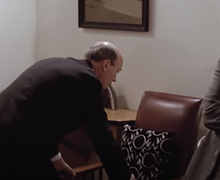 Poirot, however, was interested in an armchair that was slightly moved from its original position. Raglan believed it was a detail with no importance, but it was later revealed to be a key clue. The motive for the murder was agreed to be the fear of Mrs Ferrars' blackmailer of someone exposing him. Raglan later proceeded to take the foot and fingerprints of all the suspects.
Poirot and Dr Sheppard went to a small dépendance in the garden of Fernly, where they found two objects--a small pen and a piece of white cloth, presumably from an apron or handkerchief. He later found a wedding ring in which was written "From R--March 16". Mr Hammond also saw that some of Ackroyd's money was missing.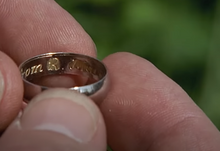 After Roger's lawyer Hammond comunicated the terms of the will (look above), Poirot made a reunion with the following people:
Mrs Cecil Ackroyd and her daughter Flora
Geoffrey Raymond and Hector Blunt
Dr Sheppard
Poirot accused everyone there of hiding a secret. There were other three people who were hiding a secret and weren't there, that were John Parker, Elizabeth Russell and Ursula Bourne. A key detail is that Miss Bourne, the parlourmaid, had been fired by Ackroyd that afternoon. She declared that it was because the papers in Roger's desk weren't in order.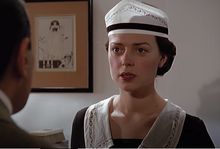 The next morning, Mrs Ackroyd "couldn't take it" anymore and revealed the secret to Dr Sheppard (and to the reader). She had been looking for Roger Ackroyd's will that afternoon, when Ursula Bourne came into the study room. Mrs Ackroyd declared she was looking for a magazine and leaved. She heard shortly afterwards Ursula that wanted to talk to Ackroyd. This was a very important unconcious remark because it was the maid who had talked to Roger, and not the opposite.
The next person to reveal the secret was Ackroyd's secretary. He was in a debt of five hundred pounds. He didn't tell this to anyone because the investigating officers may have believed he was the murderer. Poirot remarked that there were a lot of people who killed for an even smaller debt--yet he said that Raymond wasn't the murderer.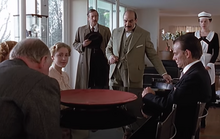 Then came Parker's turn. Poirot first arranged a reconstruction of the crime where he realized that Parker saw Flora exiting the study room at 9:45, yet he didn't see Ackroyd alive. When Flora had gone away, he exposed Parker as a blackmailer. Prior to the opening of the story he had blackmailed a Major Ellerby who was partly responsible of a murder. However, Parker had tried to blackmail Ackroyd (at least he said so). Poirot deduced that he didn't know that the real victim of blackmail wsa Mrs Ferrars.
Then Poirot said that Flora Ackroyd never entered Ackroyd's study room that night, but that she was stealing the money from her uncle's bedroom. When she heard Parker coming, she pretended she was exiting the room. Major Blunt tried to defend her, but no one took him seriously. The secret of Blunt was that he was secretly in love wth Flora Ackroyd.
Sheppard and Poirot received a call from a Liverpool inspector saying that they recognised the American man that was encountered by the doctor that night. He was called Charles Kent and had an alibi from 9:45 to 10:00, so Raglan deduced he wasn't the murderer. However, Flora later confessed that she never entered the study (as stated before), so Kent had the opportunity to kill Ackroyd. He was the second obvious suspect apart form Ralph Paton.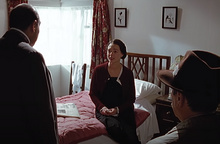 Hercule Poirot and Dr Sheppard (accompanied by his spinster sister Caroline) went to visit the housekeeper, Miss Russell, and made her confess. It was revealed that Charles Kent was a fake name, and that he was actually Russell's illegitimate son. However this gave Miss Russell an alibi since she was talking with Kent in the dépendance that night.
After Elizabeth Russell left, Ursula Bourne stormed into Sheppard's house and said that she had actually married Ralph Paton without anyone knowing. One of Ursula Bourne's references, Mrs Folliott, was actually revealed to be her sister. That evening Ursula explained everything to Ackroyd which fired her for lying to him.
Solution
Poirot organized a reunion at The Larches with the following people:
James Sheppard
Ursula Bourne
Mrs Cecil Ackroyd
Flora Ackroyd
Geoffrey Raymond
Hector Blunt
John Parker
Elizabeth Russell
There he talked about the wedding, and gave all the details to the participants. Then he made a surprise announcement and Ralph Paton came into the drawing room.
All people had revealed their secrets, remarked Poirot--except for Dr Sheppard. He had hid Ralph in a clinic near the town of Cranchester. Poirot invented a mentally disabled nephew to go to the clinic and gain the information he wanted. He then politely invited everyone to leave... except for Dr Sheppard.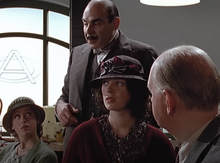 There, Poirot said that the armchair that was in an unusual position was hiding a table. Now, there was something in that table that didn't have to be seen. The call received by the doctor was to make sure the culprit was on the crime scene when the body occurred--or at least shortly after. This eliminates Parker from the suspects, because he would have been able to take the object in the table anytime, and because it was him who pointed out that detail. Poirot said that the voice heard by Major Blunt was nothing other than a dictaphone recording. The murder could have occurred anywhere between 8:50 and 10:00.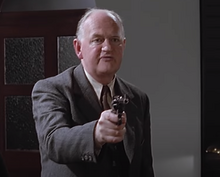 In the summing up of the evidence, Parker, Miss Russell, Ursula and Ralph Paton weren't suspects because they had an alibi. Then, Agatha Christie made a controversial plot twist... who identified the murderer as no one other than the narrator, Dr Sheppard. That morning, he had received a patient who worked in an American steamer. He was the person who called Dr Sheppard--but about the argument of the conversation, whe only had one witness--Sheppard himself!
Sheppard later took Poirot's advice and quietly took his own life through an overdose of barbiturates.
Spoilers end here.
Portrayals
Agatha Christie's Poirot
In Agatha Christie's Poirot, Roger Ackroyd was portrayed by Malcolm Terris. Here he is a wealthy factory owner hated by many. He also disliked his secretary Raymond. This subplot isn't present in the original novel. Here he is described as a much more unpleasant character who "didn't work a day in his life" and that had his house constructed with a "badly earned fortune". Just like in the original novel, he is an acquaintance of Hercule Poirot. Here the investigating officers of his murder were Inspectors Raglan and Davis, and a Colonel Melrose. In the adaptation the roles are taken by a completely unsympathetic Inspector Davis and Chief Inspector Japp.
The Murder of Kuroido
In The Murder of Kuroido, a Japanese adaptation of the novel, the parallel character is Rokusuke Kuroido.