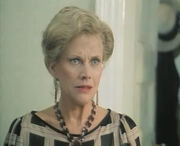 In the novel The Secret Adversary, Mrs Marguerite "Rita" Vandemeyer was a woman connected with "Mr Brown". She was one of the few people who knows his true identity. Mrs Vandemeyer was onboard RMS Lusitania when it got torpedoed, and saw Danvers and Jane Finn speaking.
Tuppence took employment as a maid with Mrs Vandemeyer.
Although Mrs Vandemeyer was "no longer in her first youth", and her beauty was "hardened and coarsened", in her youth she "must have been dazzling".