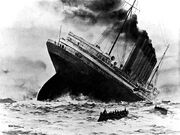 RMS Lusitania was a quadruple screw steamer built from 1904 to 1906, which sank during the First World War due to a German U-Boat strike. It sank on May 1915, in less than twenty minutes. It was owned by the Cunard Line, and it is said to be the biggest maritime disaster during World War I. Most of its passengers were American and British.[1]
RMS Lusitania in the works by Agatha Christie's
Lusitania takes a major importance in the novel The Secret Adversary published in 1922. The first chapter of the book takes place during the sinking of the ocean liner, featuring an american woman, called Jane Finn. A man comes up to her to give her some papers, then disappears. His name is later revealed to be Danvers.
The opening scene of the novel says that RMS Lusitania was struck by two torpedoes in succession. The survivors heard two explosions but the cause of the second one remains a real-life mystery to this day as the crew of the German U-Boat claims to have fired only one torpedo.
Survivors of the Lusitania
Part of the plot of The Secret Adversary involves Tommy and Tuppence tracking down and questioning survivors of the Lusitania and trying to discover who was "Rita". The names of survivors were provided to them by Mr Carter. Survivors mentioned in the book include:
References