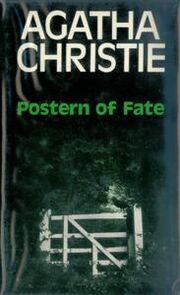 Postern of Fate
is a work of
detective fiction
by
Agatha Christie
that was first published in the UK by the
Collins Crime Club
in October 1973 and in the US by
Dodd, Mead and Company
later in the same year. The UK edition retailed at £2.00 and the US edition at $6.95.
The book features her detectives Tommy and Tuppence Beresford and is the detectives' last appearance. It is the last novel Christie wrote, but not the last to be published.
Explanation of the novel's title
Edit
The title comes from the poem Gates of Damascus by James Elroy Flecker. The poem is also referenced in the short story The Gate of Baghdad in the 1934 collection Parker Pyne Investigates.
Plot summary
Edit
Now in their seventies (though the authoress never states their age clearly), Tommy and Tuppence move to a quiet English village, looking forward to a peaceful retirement. But, as they soon discover, their rambling old house holds secrets. Who is Mary Jordan? And why has someone left a code message in an old book about her 'unnatural' death? Once more, ingenuity and insight are called for as they are drawn into old mysteries and new dangers.
Literary significance and reception
Edit
Most critics remarked how noticeable Agatha Christie's old age is in this book. For example the main characters Tommy and Tuppence seem to have completely forgotten in one chapter what they discussed just a chapter before. Some conversations seem to be repeated again and again, before any action takes place. Some puzzles which are obvious and easy to solve for the reader take various chapter to be tackled by the main characters. Nevertheless, the reader is able to follow the main story line.
Maurice Richardson in The Observer of November 11, 1973 was positive in his review: "Now in their seventies, the Beresfords, that amateur detective couple of hers whom some of us found too sprightly for comfort, have acquired a Proustian complexity. A code message in an Edwardian children's book puts them on to the murder of a governess involved in a pre-1914 German spy case. Past and present go on interlocking impressively. Despite political naivety; this is a genuine tour de force with a star part for Hannibal, the Manchester Terrier."
Robert Barnard: "The last book Christie wrote. Best (and easily) forgotten."
Postern of Fate has been criticized as of lower quality than the bulk of Christie's output. According to The Cambridge Guide to Women's Writing in English, this novel is one of the "execrable last novels" where Christie "loses her grip altogether".
Publication history
Edit
1973, Collins Crime Club (London), October 1973, Hardcover, 254 pp
1973, Dodd Mead and Company (New York), Hardcover, 310 pp
1974 Bantam Books, Paperback, 276 pp
1974 GK Hall & Company Large-print Edition, Hardcover, 471 pp ISBN 0-8161-6197-6
1976, Fontana Books (Imprint of HarperCollins), Paperback, 221 pp
1992, Ulverscroft large-print Edition, Hardcover, ISBN 0-7089-2708-4
References to other works
Edit
The book has many references to other Tommy and Tuppence books as well as cultural references. We learn that Tuppence and Tommy's twin daughter Deborah is now mother of twins herself, that the adopted daughter Betty lives in Kenya and that the wife of Albert, the loyal valet, has recently died. Mr. Robinson, the "yellow, big man" from Passenger to Frankfurt, appears here, as do Colonel Pikeaway and Horsham, posing undercover as a gardener.
International titles
Edit
German: Alter schützt vor Scharfsinn nicht (Old age doesn't prevent from sharp wit)
Hungarian: Sors-rejtekajtó (Postern of Fate)
Turkish: Kader kapısı (Postern of Fate)
Italian: Le Porte di Damasco (Damacus' Gate)