In the novel A Murder is Announced, Patrick Simmons is a young cousin of Letitia Blacklock. He and his sister Julia are staying at Little Paddocks. Although they are cousins of Miss Blacklock, they affectionately refer to her as Aunt Letty.
Patrick is tall and handsome, and has a fondness for practical jokes. He once made Dora Bunner an apple pie bed, and sent Mitzi a postcard saying the Gestapo was on her track.
Before the war, Patrick lived in the South of France. During the war, he went into the Navy, where he had quite a good record, except for a tendency towards insubordination. After the war, he came to live at Little Paddocks, while he was studying for an engineering degree at Milchester University.
Towards the end of the novel, it is revealed that the person claiming to be Julia Simmons is actually Emma Stamfordis. Patrick had met her at a party, and had agreed to bring her to Little Paddocks with him, while the real Julia was pursuing an acting career in Perth, Scotland. Patrick is attracted to Emma, and at the end of the novel, he expressed a hope that they could continue their relationship. However, Emma turned him down.
Portrayals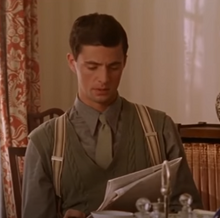 In the BBC 1985 adaptation of the novel which formed part of the Miss Marple series, Patrick Simmons is played by Simon Shepherd. The portrayal here is very faithful to the original. In this adaptation, Patrick says that he and Emma Stamfordis are madly in love, and they are seen together at the wedding of Edmund Swettenham and Phillipa Haymes.
In the ITV 2005 adaptation of the novel, Patrick is played by Matthew Goode. In this adaptation, Patrick helps Inspector Craddock find the old photo albums at Little Paddocks, whereas in the novel, it was Julia who did this. At the end of the movie, Patrick is seen standing with Edward, the son of Phillipa Haymes, and walking him to Little Paddocks.
Community content is available under
CC-BY-SA
unless otherwise noted.