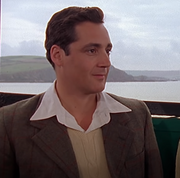 In the novel Evil Under the Sun, Patrick Redfern (real name Edward Corrigan) is the husband of Christine Redfern.
Spoilers ahead
He murdered his first wife Alice Corrigan and his lover, actress Arlena Marshall. He found Arlena's dead body at 11:45, but it was actually his wife posing as a corpse. Arlena was strangled after her body was discovered, an unique twist in the bibliography of Agatha Christie.
Portrayals
Agatha Christie's Poirot
In the Agatha Christie's Poirot episode adapted from the novel, he was portrayed by Michael Higgs.
Les Petits Meurtres d'Agatha Christie
In Ding Dingue Dong, the France Télévisions adaptarion of Evil Under the Sun, the parallel character of Patrick Redfern is Nathan Steiner. Here he murdered Arlena (named Clarisse Rodier), but there is no mention of a previous murder.
1982 film
In the 1982 Evil Under the Sun movie, Redfern was portrayed by Nicholas Clay.
Community content is available under
CC-BY-SA
unless otherwise noted.