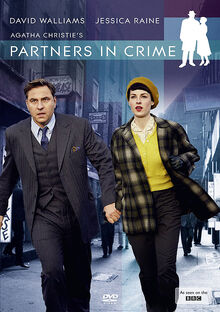 Partners in Crime is a British drama television series that is set to broadcast on BBC One on 26 July 2015. The six-part series is an adaptation of two detective novels by Agatha Christie. The first three episodes are an adaptation of The Secret Adversary, written by Zinnie Harris and the last three episodes are of N or M? by Claire Wilson.
Production
Partners in Crime was commissioned by Ben Stephenson and Charlotte Moore for the BBC to mark the 125th anniversary of Agatha Christie's birth. The adaptation was produced by Endor Productions in partnership with Agatha Christie Productions. The series was not renewed for a second series by the BBC. [1]
Conception
David Walliams and Hilary Strong (Agatha Christie Group) approached Hilary Bevan Jones and Tom Nash (development producer) of Endor Productions with the idea of re-inventing the Agatha Christie characters Tommy and Tuppence Beresford. Walliams liked the idea of married amateur detective duo bickering over a dead body.
Agatha Christie wrote the stories between 1922 and 1973 and featured stories before Tommy and Tuppence were married to old age with grown up children. It was decided to set the series in the 1950s in the context of the Cold War and suit the stories that had already been written by Agatha Christie. The two stories chosen "The Secret Adversary" and "N or M?" would be made into three hours each over six episodes.
Casting
David Walliams as the main driving force and executive producer would play Tommy with his usual wit and humour. Jessica Raine was chosen for her ability to move between drama and humour.
Filming
Creating 1950's England led to filming in central and greater London, Essex, Buckinghamshire, Surrey, Oxfordshire, Kent, Hertfordshire, and Norfolk. Didcot Railway Centre and North Norfolk Railway, Sheringham were used for period railway locations. Cromer in Norfolk was used for its coastline and pier and many unspoilt buildings and streets in the town. Englefield House and derelict industrial wastelands by the Thames.
Characters
Thomas "Tommy" Beresford (David Walliams) in his early 40's is clever and logical man whose business ventures never quite work out just as his university and army days were never successful. He tries to look after his spirited wife, Tuppence, and his son George by various money making schemes. While he does not realize he has no head for business he has a knack for espionage and crime solving in a 'Cold War' world full of double agents and assassins. It is a perilous world in which Tommy flourishes.
Prudence "Tuppence" Beresford (Jessica Raine) is a quick witted, irrepressible woman with a tendency to leap without looking. The daughter of a country archdeacon; one of five children. She misses the sense of purpose she had as a nurse in the war and cannot settle as a housewife despite her love for Tommy and son George. When the opportunity is presented to aide British Intelligence in the defence of her country she jumps at the chance to put herself, and her less willing husband, in harms way.
Major Anthony Carter (James Fleet) is Tommy's uncle and head of 'The Third Floor', a branch of British Military Intelligence. In the war Carter knew who the enemy was but now in the 1950's the adversary is a new type of spy. Carter tries to protect his hapless nephew Tommy and his wife Tuppence as they become involved in his new war.
Albert Pemberton (Matthew Steer) is a chemistry teacher and part-time agent for Carter. He met Tommy in hospital when he was recovering from losing a hand while working for a bomb disposal unit. He assists Tommy and Tuppence when they require more technical knowledge and revels in their adventures.
Cast
Main
Guest stars
The actors David Walliams and Christina Cole have also had minor roles in the TV series Agatha Christie's Marple, in the episodes The Body in the Library and The Murder at the Vicarage respectively.
Episodes
Series
Episodes
Originally aired
Ave. UK Viewers
Series premiere
Series finale
1
6
26 July 2015
30 August 2015
N/A
Episodes
No.
Title
Writer
Director
Airdate
1
The Secret Adversary - Part 1
Zinnie Harris
Edward Hall
July 26, 2015
Married couple Tommy and Tuppence have a chance encounter on a Paris train with an agitated young woman, named Jane Finn, who suddenly disappears and never returns to her seat. Back in England, Tommy is focussed on their fledgling honey business, Tuppence is much more concerned about the missing girl and her investigations bring them into contact with Tommy's uncle, and Third Floor bigwig, Major Anthony Carter. It turns out that Jane Finn was carrying a secret recording that would potentially reveal the identity of a legendary Soviet assassin, known only as Mr Brown, who they believe will strike soon in Britain. Carter believes Brown's cronies must have kidnapped Jane – they can only hope she managed to hide the recording before they got to her. Despite Carter's attempts to keep them out of it, Tommy and Tuppence soon find themselves compelled to infiltrate Brown's gang in the hopes of finding Jane Finn, the recording and foiling Brown's next hit.
2
The Secret Adversary - Part 2
Zinnie Harris
Edward Hall
August 2, 2015
With Tommy mistaken for a criminal mastermind, Drennan, due to join Brown's gang from the north, and Tuppence employed as a maid to a faded soprano, Rita Vandemeyer, with suspicious connections to Brown, the couples investigations into Brown get deeper and more dangerous. Tommy tries to escape the pleasures of the gang's seedy Soho den long enough to search for Jane within its dark shadowy corners and backrooms, but he is caught and must attempt to return tomorrow to try again... except this time the gang will be expecting the £1,000 Drennan was due to bring. In the face of ever increasing peril and Carter's continued obstruction, Tommy and Tuppence must somehow find the funds to allow Tommy's re-entry to the Soho den, solve the mystery of Rita's secret package and, for their own safety, try to maintain their cover.
3
The Secret Adversary - Part 3
Zinnie Harris
Edward Hall
August 9, 2015
Tommy's given a job to do for Brown on pain of the death of his son, George. He must steal a specific file from under Major Carter's nose on the Third Floor, he succeeds, with Tuppence's help, but they redeem themselves by solving the mystery of the location of the secret recording that will identify Brown. Our heroes must find Jane Finn, and foil the potential assassination of a visiting American dignitary of incredible importance to the British government.
4
N or M? - Part 1
Claire Wilson
Edward Hall
August 16, 2015
Major Carter commandeers Tommy for a mission he must keep completely secret, even from Tuppence. There is a leak on the Third Floor and Tommy is the only man Carter can trust. A British scientist, Gilbert Worthing, who was working on a top-secret prototype for a nuclear bomb, has gone missing from a military base in Cromer, along with his work. All Tommy knows is that the perpetrator is staying at the nearby Sans Souci guesthouse and is most likely a Soviet superspy code named N... or is it M? Tommy must travel in disguise as a birdwatcher to Cromer, in order to identify which guest at the Sans Souci is holding the British government to ransom. Things get even more complicated when it turns out that Tuppence, dismayed at being left out, has beaten him to it and already ingratiated herself with the other guests. But Tommy and Tuppence must learn to work together again if they are going to identify the Soviet spy, save the missing scientist, and discover the location of the missing bomb before half of Norfolk is obliterated.
5
N or M? - Part 2
Claire Wilson
Edward Hall
August 23, 2015
Tommy and Tuppence turn their attention to their fellow occupants of the Sans Souci to find the potential nuclear bomb thief. Tommy has his eyes on Carl Denim, a shifty young beatnik who loves to flirt (especially with Tuppence) and is spending a lot of unexplained time around the coast, whereas Tuppence is convinced the culprit is Mrs Sprot, a glamorous and sensual woman, apparently married, but travelling alone. She was certainly in Khan's room, but was it to cover up their affair, or the fact that she is N? There are so many potential suspects and dead ends that Tommy and Tuppence can't help but get their wires crossed and let their guard down... and it's Tommy who inadvertently ends up in the lion's den. He finds himself in the home of an apparently kindly old sea dog, Commander Haydock.
6
N or M? - Part 3
Claire Wilson
Edward Hall
August 23, 2015
It turns out that Gilbert managed to hide a vital key to his device before his capture, and that without it the bomb N has stolen is entirely useless. When N gains possession of the key Tommy and Tuppence find themselves once again backed into a corner. With Carter's help they must come up with their most ambitious and risky plan yet to save the lives of thousands of innocent British citizens.
Gallery
Multimedia
See also
References