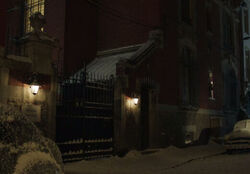 In the TV series Les Petits Meurtres d'Agatha Christie, the Orphelinat Sainte Cécile is the orphanage where Alice Avril grew up after being left there by her biological mother.
Damien Martinez who met Alice and sought her help in L'affaire Protheroe (season 2, episode 14) also grew up at the orphanage and was Alice's childhood friend. He convinced Alice to help him by reminding her of a song they often sang in the orphanage that although they did not have a father or a mother, they would be there for one another.
In Le crime de Noël (season 2, episode 20) Alice is mistaken by the matron for one Miss Chevalier, a teacher whom she had just employed but who is overdue. Alice is pressed into service without being given a chance to explain. She plays along because this gives her a chance to investigate the murder of Hubert Dopagne which commissaire Laurence believes is somehow linked with the orphanage. Alice believed that her background as an orphan and former inmate there would help her connect with the children and this proves correct. In the event she helped to arrest the murderer and also put an end to the reign of terror and abuse that was going on there.
In the series, the external shots of the orphanage are that of a building at 28 rue Alexandre Leluex in Lille.
Community content is available under
CC-BY-SA
unless otherwise noted.