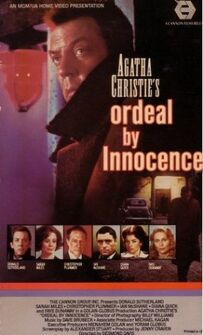 Ordeal by Innocence is a 1984 mystery film directed by Desmond Davis. It stars Donald Sutherland and Faye Dunaway. It is based on the novel of the same name.
Plot
Paleontologist Dr. Arthur Calgary visits the Argyle family to give them an address book that belongs to Jack Argyle. But he is told that Jack has been executed for the murder of his wife many years ago. But the address book can prove that Jack was innocent, so Dr. Calgary starts the investigation all over.
Cast
Production
Agatha Christie's daughter Rosalind, who had approval of the script, was initially concerned that Michael Elphick's police inspector, modeled to some extent after a harder-nosed American-style police officer, would prove unpopular among the local constabulary in Devon, where she lived.
The original score was not by Dave Brubeck but by Pino Donaggio, who wrote his typical, lush and beautiful music. When the film didn't test well, they decided to jettison the Donaggio score and replace it with Dave Brubeck music. Brubeck was told he'd have two weeks to write an original score - he said no. They then agreed that they'd use already existing Brubeck tunes and newly record them.
The film received a Royal Premiere in the presence of HM Queen Elizabeth II and Prince Philip.