Sir Noël Peirce Coward (16 December 1899 – 26 March 1973) was an English playwright, composer, director, actor and singer, known for his wit, flamboyance, and what Time magazine called "a sense of personal style, a combination of cheek and chic, pose and poise".[1]
Agatha Christie and Noël Coward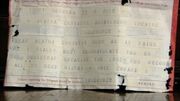 In 1957 Noël Coward sent Agatha Christie a telegram, congratulating her for her play The Mousetrap succeeding his play Blithe Spirit as the longest running West End play.
In 2011 media reported that the telegram had been found in an old bureau, once belonging to Christie, that was being restored.[2]
In adaptations of Agatha Christie's works
In the 1986 BBC adaptation of the novel The Murder at the Vicarage a poster announces a performance by the St. Mary Mead Players of the Noël Coward play Blithe Spirit.
Noël Coward makes a non-canonical appearance as a character in ITV's 2004 adaptation of 4.50 from Paddington. Early in the show he is seen as the employer of Lucy Eyelesbarrow. There, Lucy is singing a song with Coward accompanying her on the piano. He tells the audience (gathered at his home) that Lucy "breezed in like a whirling dervish" for a fortnight to rescue him, becoming not just his secretary but also his housekeeper. In August before that, she had been looking after a sultan in Turkey. Coward's presence is a necessary plot device. Towards the end of the show, Miss Marple wants to plan a denouement on board a train. How does Lucy entice the Crackenthorpe family to travel on the train? By offering tickets to a Noël Coward performance. She tells them she got because because Coward was her former employer. The part of Noël Coward is played by Pip Torrens.
He is also mentioned by Lady Edgware in the Agatha Christie's Poirot episode Lord Edgware Dies.
References