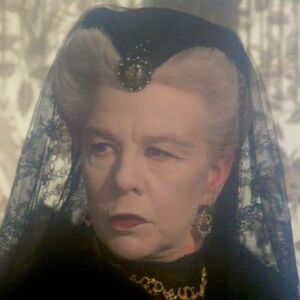 Princess Natalia Dragomiroff (Russian: Наталья Драгомирова[1]) is one of the main characters in Murder on the Orient Express.
Dragomiroff has been played on screen by various actresses, including Dame Wendy Hiller, Leslie Caron, Dame Eileen Atkins, & Dame Judi Dench.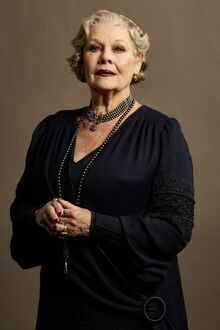 Biography
Princess Dragomiroff was a well-off Russian aristocrat who lived in Paris, France.
Her husband had realised his wealth before the Russian Revolution and had invested it in Europe, where they lived after leaving Russia.
At the time of the events in the book, the Princess lived at 17 Avenue Kléber in Paris[2] and was a naturalized French citizen, although her husband also had an estate in Germany. One of the people who worked for her husband was Hildegarde Schmidt, who later became Dragomiroff's lady's maid.
Natalia, who would frequently visit America, became great friends with the Shakespearean Broadway actress Linda Arden, and became an admirer of her work. The two of them became best friends, and Dragomiroff even became the godmother to Arden's daughter Sonia Goldenberg. Sonia would later marry Colonel Armstrong, and become the mother of Daisy Armstrong.
After the kidnap and murder of Daisy Armstrong, the perpetrator Cassetti was arrested and tried but got off on a technicality because of his wealth and influence. Linda Arden gathered a group of interested parties for the purpose of avenging the crime and bringing the criminal to justice. Princess Dragomiroff joined in and boarded the Orient Express with the rest of the group. Just prior to boarding the Orient Express at Stamboul, she had been staying as a guest at the Austrian Embassy.
Portrayals
Murder on the Orient Express (1974)
In the 1974 film, Princess Dragomiroff is portrayed by Wendy Hiller.
This portrayal is quite faithful to the novel; however, in this version, she owns two Pekingese dogs which accompany her on the train, and this is not mentioned in the novel.
This is a trait later carried on to the 2017 film.
In the murder scene, she receives the dagger from Hildegarde Schmidt, and stabs Ratchett for her goddaughter, Sonia Armstrong. She is the ninth person to stab Ratchett, before handing the dagger to Hector MacQueen.
In the 2001 TV movie, the character of Princess Dragomiroff is replaced by a wealthy South American woman named Señora Nina Alvarado, a South American played by Leslie Caron.
Señora Alvarado was the widow of Generalissimo Alvarado, a South American dictator. However she considered that her late husband was just a patriot who understood that his country needed strong leadership. After his assassination, she felt her country had descended into chaos, with rebel leaders such as "El Tigre" and "El Commandante" fighting one another.
Señora Alvarado lives in Paris and New York but had gone to Istanbul to buy carpets for a house she was furnishing on the Amalfi Coast in Italy. She was travelling to Venice, and then Milan, to be present when Donatella Versace presented her Spring Collection, as well as her friends Elton John and exiled Russian ballet dancer Yevgeny Dragomiroff.
Like in the novel, She was a good friend of the actress Linda Arden and godmother of Linda's daughter Sonia Armstrong. She also told Poirot that Linda Arden had a second daughter named Helen or Helena, and maybe living in England. Señora Alvarado was shocked when Poirot explained that Ratchett was Cassetti. She said, "I'm glad somebody killed him. I'm only sorry for one thing: that it was not me who did it."
Alvarado explains her movements through the night: she went to bed & stayed in her apartment. She confesses that she has no alibi, but suddenly remembers waking up with a dry throat & ringing the bell for a glass of mineral water. A conductor, whom she describes as a small man with dark hair, passed by her door, not bringing her the water, leaving her to drink tap water.
In the reconstruction of Ratchett's murder Sra. Alvarado is shown to be the 4th person to stab Ratchett, taking the knife from Phillip von Strauss. One of the clues left in the compartment was a handkerchief with embroidered with the letter "H". Like in the original novel, Poirot concludes it is hers. She had earlier told Poirot she had a good friend, Yevgeny Dragomiroff, a Russian ballet dancer. Poirot surmises that he had given her the handkerchief. "H" is actually the Cyrillic letter for "N"; "N" for Nina.
At the end of the movie, Poirot reveals in a voiceover that Alvarado is the honorary chairperson of the charitable organization Fashion vs. Famine, which aids hungry children through the sale of couture clothing.
Agatha Christie's Murder on the Orient Express (2006)
In the 2006 video game, Dragomiroff is voiced by Carolyn Seymour.
The portrayal in the game is largely faithful to the original but the character has been fleshed out with additional biographical detail. Her passport did not list her date of birth. Country of birth was Russia. She lived in Paris and had the same address as given in the novel. She was born in St. Petersburg, Russia, growing up in the Dragomiroff Family, an ancient Russian noble family. Her father was a Tsar, and her mother was a Tsarina. When she was a young woman, Dragomiroff's mother died, and she became Princess.
Agatha Christie's Poirot: Murder on the Orient Express (2010)
Physical Appearance
In the novel, Princess Dragomiroff is very ugly, described as being "ugly as sin". She's an elderly woman with a yellow, toad-like face, dark, jewel-like eyes, & heavily beringed hands. Her hands are also described as being yellow, and "claw-like". She has a clear & courteous voice, but an autocratic tone. She also suffers from rheumatic pains in her back.
She wears a small but expensive black toque, a sable coat with a collar of large pearls, and rings covering her hands. It is presumed that these are the only clothes she has worn since 1917.
In the 1974 film, Dragomiroff has greying blonde hair in a bun, grey eyes, pale makeup, & red lips.

She is dressed entirely in jet-black clothes - a veil, shawl, and dress - with jet jewelry. She also wears golden earrings with black jewels, and a golden necklace with a cross and black jewel inserts.
Research notes
It is presumed that Princess Dragomiroff's favorite food is fish - specifically sole - as she orders this in most of the adaptations.

In the novel, she orders cooked chicken & boiled fish without sauces, with a bottle of mineral water & a large glass of orange juice.
In the 1974 film, she orders poached sole with 1 new potato & a small green salad with no dressing.
In the 2001 version, the character is revealed to be allergic to nuts of all kinds. In the restaurant car, she sends back a salad, as it has nuts in it.
In the 2006 video game, she orders the same dish as in the novel, but when she's told there is no chicken or fish on the menu for tonight, she orders lamb without sauces.
In the 2017 film, she orders a similar dish to the 1974 film: sole with potato & velouté sauce, replacing the original dish: grouper with escarole & beef sauce.

Princess Dragomiroff's address at 17 Avenue Kléber, Paris is a real address, & it belongs to Hôtel Raphael, a 5-star hotel in the 16th Arrondissement of Paris.

This would most likely be the residence of Princess Dragomiroff: not only was it built in 1925, but the other buildings at 17 Avenue Kléber gar La Terrasse - a restaurant - and Bar anglais - a bar.

In the 1974 film, 2010 Poirot episode, and 2017 film, Princess Dragomiroff is played by an actress who was knighted, i.e. made a Dame Commander of the Order of the British Empire (DBE).

In the 1974 film, Dragomiroff is played by Wendy Hiller, who was made a Dame in 1975.
In the 2010 episode of Agatha Christie's Poirot, Dragomiroff is played by Eileen Atkins, who was made a Dame in 2001.
In the 2017 film, Dragomiroff is played by Judi Dench, who was made a Dame in 1988.
References
↑

According to Chapter 6 of Part 2 of the novel, Princess Dragomiroff lives at 17 Avenue Kléber, which is in Paris's 16th Arrondisment.