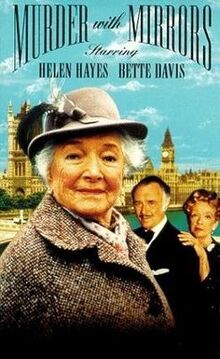 Murder with Mirrors is a 1985 TV movie based on the Dame Agatha Christie mystery novel, They Do It with Mirrors, using the novel's US title. The film is set in a youth detention centre run by a charitable American educationalist in England.
It stars Helen Hayes as Miss Marple and Bette Davis as her old American friend Carrie Louise Serrocold from their days touring Italy as young ladies. Miss Marple is called on to investigate possible causes of her friend's deteriorating health. However, as Miss Marple keeps her friend company, her attention is soon diverted as she stumbles over a dead body. A murderer is at large in a house of suspects (Brocket Hall), and a race against time begins.
The film marks Helen Hayes' last appearance as Miss Marple; indeed, it was her last film role. The film also stars John Mills, Tim Roth, Leo McKern and Dorothy Tutin.
Synopsis
Comparison with original novel
(may contain spoilers - click on expand to read)
The Characters Ruth Van Rydock, Alexis Restarick and Erine Gregg were removed.
Juliet Bellaver is made stricter.
Christian is the person that suggests Miss Marple visits Carrie Louise.
Miss Marple is nearly murdered in the theatre.
Wally and Gina have a fight about her flirtation with Steven and she declares she wants a divorce. However the next day she realises her behaviour has been terrible and so she remains with Wally and dumps Steven.
Dr. Hargrove is upgraded to Antagonist, when Miss Marple asks for Carrie Lousie's nails to be tested, he threatens her with a gun, then when the police enter tries to escape only to crash in a electric gate dead.
Edgar is the only one to die in the lake after trying to row across in a rotten boat, he falls in and drowns.
The Solution/Ending is changed.
Dr. Hargrove planned to make the school a start for other places including a island where young offenders could be them,selves.
However he convinced Lewis and so to hide the plans they embezzled the school's money.
Christian found out, so they planned the murder with the theatricals of a magic act.
Edgar whom Lewis treated like a son, stayed in the study while Lewis shot Christian and changed the letter.
To help Lewis created a tape of him pretending to confront Edgar, which Miss Marple realised was overly dramatic.
Dr. Hargrove realised that Miss Marple was noticing things tried to kill her in the theatre and shoot her when she wanted to test the nails.
Facing defect Lewis gets the tape recording in his study, only to shot himself.
The ending has Mildred becoming housekeeper and a student Gina 'claimed' was dangerous to old women giving Miss Marple flowers because she remained him of his mother.
Cast
Tropes and Themes
Filming Locations
Broket Hall in Hertfordshire - used for Stoneygates
Carlton House Terrace - Gulbrandson's office
Research notes
Gallery
Promotional Videos
See Also
Community content is available under
CC-BY-SA
unless otherwise noted.