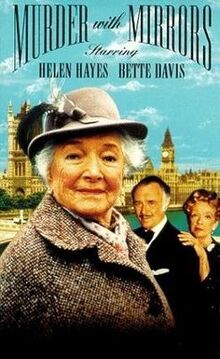 Murder with Mirrors is a 1985 TV movie based on the Dame Agatha Christie mystery novel, They Do It with Mirrors, using the novel's US title. The film is set in a youth detention centre run by a charitable American educationalist in England.
It stars Helen Hayes as Miss Marple and Bette Davis as her old American friend Carrie Louise Serrocold from their days touring Italy as young ladies. Miss Marple is called on to investigate possible causes of her friend's deteriorating health. However, as Miss Marple keeps her friend company, her attention is soon diverted as she stumbles over a dead body. A murderer is at large in a house of suspects (Brocket Hall), and a race against time begins.
The film marks Helen Hayes' last appearance as Miss Marple; indeed, it was her last film role. The film also stars John Mills, Tim Roth, Leo McKern and Dorothy Tutin.
Synopsis
Comparison with original novel
(may contain spoilers - click on expand to read)
The adaptation is fairly faithful to the main plot line with some changes to the characters.
The characters Ruth Van Rydock, Alexis Restarick and Ernie Gregg were removed.
Christian Gulbrandsen is the person who suggests Miss Marple visits Carrie Louise.
Juliet Bellaver is made stricter and is constantly in competition with Mildred Strete in the matter of looking after Carrie-Louise.
Wally and Gina have a fight about her flirtation with Steven and she declares she wants a divorce. However the next day she realises her behaviour has been terrible and so she remains with Wally and dumps Steven.
Dr. Hargrove has an enlarged role. Here he is a co-conspirator with Lewis Serrocold and he plays an active part in some of the events at Stonygates. In this adaptation Miss Marple is nearly murdered in the theatre in a staged accident similar to what happened to Alexis Restarick in the original. It turns out that Hargrove is the antogonist. The vision to create a model youth reformatory was his, although Lewis Serrocold supported the vision by embezzling money for it. When Miss Marple started poking around, Hargrove feared that she would stumbled on the truth and tried to kill her. Though the attempt in the theatre failed, he would try again.
Late in the story, Miss Marple brings some nail clippings and asks Hargrove to analyze them, he realises that Miss Marple is getting too close to the truth. He pulls out a gun and takes Miss Marple hostage and then tries to escape in a car. He attmepts to leave the estate but the police close the gate in time. His car crashes and he dies in the subsequent explosion.
There is a final drowning scene like in the original but only Edgar is involved. After nearly breaking down during questioning, he runs off and tries to row across the lake in a rotten boat. The boat sinks, he falls into the water and drowns.
While this looks final, it is not as neither Hargrove nor Edgar could have killer Gulbrandsen. Hargrove was in the room with all the others listening to Edgar shouting at Serrocold.
It is left to Miss Marple to unmask the murderer during the denouement. She identifies Lewis Serrocold as Gulbrandsen's killer. Christian had found out about Serrocold and Hargrove's scheme so they conspired to kill him. They enlisted the willing help of Edgar, who looks on Serrocold as a father.
Like in the original, Edgar staged the argument in the study while Lewis sneaked out and shot Christian. Hoewever, in this case, Edgar did not have to mimic Serrocold's voice. Serrocold created a tape of his responses. Edgar pretended to be mentally unsound but Miss Marple found his play-acting overly exaggerated and this made her suspicious.
Having been exposed, Serrocold excuses himself from the room, saying he is going to get the tape recording for the police. Once in his study,he shoots himself.
The end of the story has various loose ends tied up. Carrie-Louise dismisses Juliet Bellaver and Mildred Strete is delighted to take over the roles of managing the household as well as looking after her mother all by herself. Gina is reconciled with Wally. A student whom Gina 'claimed' had a history of dangerous behaviour to old women ends up giving Miss Marple a bunch of flowers because she reminded him of his mother.
Cast
Tropes and Themes
Filming Locations
Brocket Hall in Hertfordshire - used for Stoneygates
Carlton House Terrace - Gulbrandson's office
Research notes
Gallery
Promotional Videos
See Also