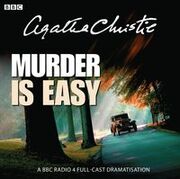 Agatha Christie's thriller dramatised in three parts by Joy Wilkinson. Director: Mary Peate. It was first broadcast in 2013.
Episode 1
Ex-policeman Luke Fitzwilliam doesn't believe little old Miss Pinkerton when she tells him that she's off to Scotland Yard to report a serial killer on the loose in her quiet English village. But he's soon forced to reconsider.
Episode 2
Luke Fitzwilliam can no longer believe that so many deaths in the tiny village of Wychwood under Ashe are a coincidence, and he's determined to find out the truth. He enlists the help of Bridget, Lord Whitfield's attractive young fiancee.
Episode 3
Luke and Bridget are getting closer, in spite of themselves. As they discover yet another body, they think they know who the murderer is, but will they be able to prove it?
Cast
Patrick Baladi as Luke
Lydia Leonard as Bridget
Marcia Warren as Miss Waynflete
Patrick Brennan as Billy Bones/Rivers
Thomas Wheatley as Reverend Wake
Lizzy Watts as Rose
Paul Stonehouse as Abbott
Ben Crowe as Ellsworthy
Will Howard as Dr Thomas
Robert Blythe as Major Horton
Community content is available under
CC-BY-SA
unless otherwise noted.