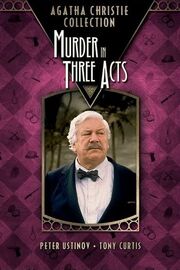 Murder in Three Acts is a 1986 British-American television film produced by Warner Bros. Television, featuring Peter Ustinov as Agatha Christie's Belgian detective Hercule Poirot. Directed by Gary Nelson, it co-starred Jonathan Cecil as Hastings, Tony Curtis, and Emma Samms.
The film is based on Christie's book Three Act Tragedy (1934).
Synopsis
Poirot joins his assistant Hastings in Acapulco, Mexico, where Hastings is staying. They go to a party at which the other guests include the writer Janet Crisp, the American actor Charles Cartwright, a clergyman called Babbington, Daisy Eastman and her daughter Egg, Dr Strange, and Ricardo Montoya. Babbington dies of poisoning, and then Strange is poisoned, too. Poirot hunts the murderer.
Comparison with original story
(may contain spoilers - click on expand to read)
The scene of action has been changed from Cornwall and Yorkshire to Acapulco.
Charles Cartwright is not an English theatre actor but a Hollywood film star. The guests are mainly American although the backgrounds are still the same. The police are from Mexico.
In the book, Poirot's assistant is Satterthwaite, but in the adaptation, he is replaced by Hastings.
Dr Strange's house is not Melfort Abbey in Yorkshire but El Castile in Acapulco.
Poirot and Charles Cartwright do not repair to the riviera. Instead they go to Los Angeles. Poirot goes there because he needs to begin writing his memoirs while Charles.
The denouement is delivered in front of everybody who was present at the house party, instead of just a small group as it was in the novel.
The motive of the murders has been changed. Charles Cartwright does not kill Dr Strange because only Strange knows that he is already married to a wife who is in an asylum. As such, unless Strange is put away, Charles would not be free to marry Egg. Here, Charles is not already married. He himself is mentally unstable and liable to be put away into an asylum by Strange who had been treating him. Charles murders him to prevent this from happening. This alternative ending conforms to the ending originally used in the earlier American edition of the novel published in 1934. Christie subsequently changed it for before publication in the U.K. The U.K. version has subsequently been taken to be the authoritative one.
In this adaptation, Poirot and Hastings actually explore and find a tunnel leading from the library at El Castile. They go down the tunnel but have to hide when they hear footsteps and then they encounter Rosa, Strange's maid.
Cast
Tropes and themes
Filming Locations
Filmed on location in Acapulco. The big white cross of the Capilla de la Paz can be seen as the camera view flies over the city during the opening credits.
Gallery
Promotional Videos
See Also
References