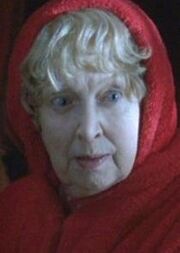 "Mrs Lancaster" (real name Julia Starke (née Warrener ) AKA "Killer Kate", AKA "Mrs Yorke") was a resident at Sunny Ridge at the same time as Ada Fanshawe and Elizabeth Moody. In her youth she had been an actress, and had later gotten involved in criminal activities.
She was, at one time, a resident at the Rosetrellis Court for Elderly Ladies, in Cumberland. While there she used the name Mrs Yorke.
At one point she might have been a resident at Saltmarsh House.
Appearances
Possible appearances
Notes
This Mrs Lancaster is not the same woman as the Mrs Lancaster in the short story The Lamp.
Community content is available under
CC-BY-SA
unless otherwise noted.