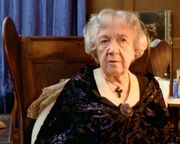 In the novel A Pocket Full of Rye, Miss Ramsbottom is the older sister of Rex Fortescue's first wife, Elvira. She lives at Yewtree Lodge with her brother-in-law and his family and is known as Aunt Effie to Rex's children. She is stern regarding moral behaviour, yet does not call out Lance's lie as to the time he was with her on the day of his arrival. She spends time with visiting missionaries, and is over 70 years old.
Miss Ramsbottom is a tall woman, and has sparse grey hair, which she wear "slicked down each side of her face". She is very interested in religion, and every chair in her room is covered with tracts or publications of a religious nature. She is often found playing patience.
After the death of Rex Fortescue, Miss Ramsbottom notices that Gladys Martin is nervous, and "twitching and jumping like a rabbit". She realises that something is worrying Gladys, and advises her to go to the police and tell them anything she knows.
Miss Ramsbottom takes a liking to Miss Marple, and invites her to stay at the house, in the room next to hers.
Portrayals
In the BBC 1985 adaptation of the novel which formed part of the Miss Marple series, the character's name is changed to Miss Henderson and the part is played by Fabia Drake.
Miss Rambsbottom does not appear in the ITV 2008 adaptation of the novel (Episode 1, Season 4 of Agatha Christie's Marple).