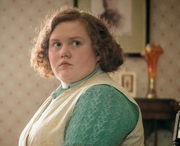 In the novel The A.B.C. Murders, Megan Barnard is Betty's elder, sensible and comparatively down to earth sister and later a member of the Legion. She disapproves of Betty's ways but wishes well for her and Donald. It is implied that she has feelings for Donald.
Megan works as a stenographer and typist in London. She comes home to Bexhill when the police inform her of her sister's death.
When Hastings first sees Megan, she gives him an impression of the Dutch dolls that his sisters played with in childhood. She has black hair "cut in a straight bob and a bang across the forehead". She has high cheek-bones, and her whole figure has "a queer modern angularity". She is plain rather than being good-looking, but there is "an intensity about her", which makes her impossible to overlook.
Megan initially describes her sister as "a nice bright girl with no men friends". She says this in mockery of what newspapers often say when a young girl is dead. Poirot says that there is always a great charity to the dead, but that he would like to find someone who knew Betty but did not know she was dead, so that he could hear the truth about what she was like. Megan then tells Poirot that Betty was "an unmitigated little ass".
Megan says that she was extremely fond of Betty, but she felt that Betty was a "silly little fool", and she had occasionally told her so. She explains that Donald Fraser is a quiet person, who cannot always express his feelings in words, although he feels intensely. He has a jealous nature, and was always jealous of Betty. However, although Betty was fond of him, it was not in her nature to be fond of someone and not notice anyone else. Betty enjoyed being taken out and dancing and cheap flattery. She and Donald had big rows over this.
Megan tells Poirot that Betty and Donald had had one row nearly a year before the events of the novel, and another worse one just over a month before. Megan had gotten them to reconcile, and tried to tell Betty how foolish she was being, but Betty would only say there had not been any harm in it. However, Megan felt that trouble was not far off, because Betty had gotten into the habit of lying to Donald so that he would not find out she was going out with other men.
Megan says that the last row they had was because Betty had told Donald she was going to visit a girl friend, but he found out that she went to Eastbourne with another man. This man turned out to be married, and so the affair was kept very secret, which made it worse. Betty had said she was not married to Donald yet, and so had a right to go out with whom she pleased, and Donald said that one day he would kill her. Megan says that she does not believe Donald killed Betty, but she was afraid that the quarrel and what he had said might be brought up.
When Donald says that Betty had told him she was going to St Leonards with a girl friend and Poirot asks if he believed her, Donald is suspicious at first. However, Megan tells him that it is not a time for considering one's own feelings or anyone else's, and that he has to come clean. Donald then tells Poirot that he believed Betty at first, but then grew suspicious. He says that he went to St Leonards and Hastings looking for her.
The idea of forming a Legion of friends and relatives of the murder victims is partly Megan's. During a meeting of the Legion, she mentions that her mother had bought a new pair of stockings for Betty on the day of the murder, and that she was crying over them because Betty had never even seen them.
During this meeting, Poirot suggests that Milly Higley may know something useful. He suggests that Megan pick a quarrel with her.
Later in the novel, Poirot asks each of the members of the Legion a question, after making them swear that they will speak the truth, and nothing but the truth. He asks Megan what she hopes will be the result of his investigations, and whether she wants him to find out the truth or not. Hastings had observed that Megan had a fanatical passion for truth, and so is surprised when she answers no.
Poirot later explains that Megan had been haunted by a fear that it was Donald who had killed Betty. It is implied that she has feelings for him. Poirot advises Donald not to be afraid to forget Betty, because in Megan, he has a girl who is one in a hundred.
Portrayals
In Les meurtres ABC, the France Televisions adaptation of the novel, the parallel character is Yolande Bellec which has a sister Aline. Here she is a teacher by profession, which works in the same school as Yann Lebras, the Donald Fraser parallel. When the police officer Duval becomes aware of the fact that Larosière's detective reputation is decreasing due to the ABC case, he and Inspector Lampion arrest Yolande, despite not being able to give an explanation for the other deaths. She was portrayed by Estelle Larrivaz.
In the BBC miniseries "The ABC Murders", her part was played by Bronwyn James.
In the 1992 ITV TV adaptation which formed part of the series Agatha Christie's Poirot, she was portrayed by actress Pippa Guard.