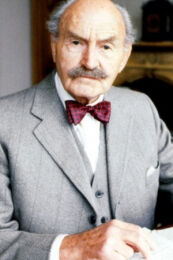 William Maurice Denham, OBE (23 December 1909 – 24 July 2002) was an English character actor who appeared in over 100 television programmes and films throughout his long career. He played Parker Pyne in two episodes of The Agatha Christie Hour, as well as playing Japp in The Alphabet Murders and portraying Hercule Poirot in a BBC radio dramatisation of The Mystery of the Blue Train.
Life and career
Denham was born in Beckenham, Kent, the son of Eleanor Winifred (née Lillico) and Norman Denham. He was educated at Tonbridge School and trained as a lift engineer. Denham eventually became an actor in 1934 and appeared in live television broadcasts as early as 1938, continuing to perform in that medium until 1997. Like fellow actor James Robertson Justice he played amateur rugby for Beckenham RFC.
Denham initially made his name in radio comedy series such as ITMA and Much Binding in the Marsh, and later provided all the voices for the animated version of Animal Farm (1954). He was nominated for the BAFTA Award for Best Actor in a Leading Role for his performance as Blore in 1954's The Purple Plain. Other film credits include 23 Paces to Baker Street (1956), Night of the Demon (1957), Two-Way Stretch (1960), Sink the Bismarck! (1960), H.M.S. Defiant (1962), Those Magnificent Men in Their Flying Machines (1965), The Day of the Jackal (1973), Minder on the Orient Express (1985) and 84 Charing Cross Road (1987).
Among his television appearances were as the father in Talking to a Stranger (1966), The Lotus Eaters (1972–73), as Archbishop Lang in Edward & Mrs Simpson (1978), All Passion Spent with Dame Wendy Hiller (1986), Behaving Badly (1989), Inspector Morse (1991) and the Sherlock Holmes story The Last Vampyre (1993).
He made a guest appearance in the BBC science fiction television series Doctor Who in the 1984 serial The Twin Dilemma, the first story to star Colin Baker in the title role as the Sixth Doctor. He later appeared in the Doctor Who radio serial The Paradise of Death in 1993 alongside Jon Pertwee. As The Honourable Mr Justice Stephen Rawley in several episodes of the BBC prison comedy Porridge, he ends up sharing a cell with Fletcher, whom he had sentenced.
In further BBC radio work, he starred in a version of the Oldest Member, based on stories by P.G. Wodehouse, from 1994 to 1999, as John Mortimer's Horace Rumpole in Rumpole: The Splendours and Miseries of an Old Bailey Hack, as Dr. Alexandre Manette in A Tale of Two Cities, as 'Father' in Peter Tinniswood's Winston series, and also as Georges Simenon's Chief Inspector Jules Maigret in several series beginning in 1976.
He was awarded the OBE in 1992.
In his book British Film Character Actors (1982), Terence Pettigrew noted that Denham 'had one of the best-known bald heads in British movies. His face was a minor work of art, a bright-eyed pixie face hand-painted on an egg. It could be kindly, sympathetic, gnomish and infinitely expressive. He also had one of the most listenable and controlled of English-speaking voices, a legacy from his many years in radio.'