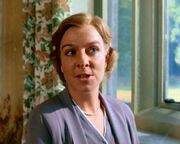 In the novel A Pocket Full of Rye, Mary Dove is the housekeeper at Yewtree Lodge, the home of Rex Fortescue. She is very efficient, detached and rather ironic. She is demure, and has dark hair. She dresses in soft beigish grays that fit her name. Curiously houses at which she is employed tend to be burglarized shortly after her departure. After finding out who Jennifer Fortescue actually is, she blackmails her. She expresses a wish never to meet Inspector Neele again.
At their first meeting Inspector Neele calls her The Admirable Miss Crichton. She tells him about the household, and all its members.
Later in the novel, Mary discovers the body of Adele Fortescue in the drawing room.
Portrayals
In the BBC 1985 adaptation of the novel which formed part of the Miss Marple series, the part of Mary Dove is played by Selina Cadell. When they first meet, Inspector Neele repeats the point about "The Admirable Miss Crichton" in the original novel. But here she does not blackmail Jennifer Fortescue, nor is there any mention that household which she had served in were burgled a few months after she left. She does tell Neele that if he were to look closely at the household accounts, he might discover discrepancies. She felt she was entitled to skim off a little for herself. However, if she thought the Inspector was getting to close to the evidence, she would simply replace the money and then he could not prosecute.
In the ITV 2008 adaptation of the novel (Episode 1, Season 4 of Agatha Christie's Marple), the part of mary Dove is played by Helen Baxendale. She does blackmail Jennifer but is challenged by Inspector Neele and Miss Marple and made to write out a cheque as a refund. Neele mentions the same point in the original about the burglaries in the houses of her former employers and just adds a warning that it must happen too often.