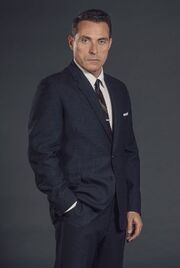 In the novel The Pale Horse, Mark Easterbrook is a historian and cousin of Rhoda Dawes. Mark also has a sister. He visited the Pale Horse in Much Deeping with Ariadne Oliver.
Mark went to Oxford at the same time as Jim Corrigan. While at university Mark had married a girl named Doreen, even though they had not been of age. Some time later his wife died in a car crash in Italy. There had been another man in the car with her.
By the time of the events in the book, Mark is an established historian specialising in Mogul architecture, with letters after his name, several publications and a listing in Who's Who.
Mark witnessed several key events in the development of the plot and part of it is carried as his first person narrative. First he witnesses a fight between two girls in a cafe where Thomasina Tuckerton had her hair easily pulled out. Next, while with his friend David Ardingly and his girlfriend Poppy Stirling, Mark heard Poppy make a remark that it was possible to order up a murder although it is quite expensive. She said it had something to do with "The Pale Horse". Later Rhoda Dawes wanted Mark to help invite Ariadne Oliver to sign books at a village fete at Much Deeping. Ariadne told Mark that there was an inn there named "The Pale Horse". The mention of the same place twice within a short period of time made Mark curious. He looked up Poppy for more details but she would not talk but looked very frightened.
Intrigued by all this, Mark proceeded to investigate, assisted by Ariadne Oliver and urged on by Mrs Dane Calthrop. Even more so than Mark, Mrs Dane Calthrop was convinced something evil was going on at the Pale Horse and it had to be stopped.
Portrayals
Agatha Christie's Marple
In the 2011 ITV adaption The Pale Horse (Episode 1, series 5 of Agatha Christie's Marple), Mark Easterbrook is portrayed by Jonathan Cake. In this adaptation, he does not witness the fight at the cafe where Thomasina Tuckerton has her hair torn out. There is no plot requirement for this as Ginger Corrigan knows Tommy personally and nursed her while she was ill. Like in the original, Mark is Lady Hesketh-Dubois' godson. He became involved in the case when Miss Marple called, hoping to speak to her. Mark answered the call and told Miss Marple that his godmother had died. He became intrigued in the case when Miss Marple asked him if he had heard of the Pale Horse Inn. He then made his way to Much Deeping where he met and collaborated with Miss Marple and Ginger.
Unique to this adaptation, Mark also knows Inspector Lejeune personally. They had served together in 617 squadron during the war. Mark had been a Lancaster bomber pilot and Lejeune was in the ground crew. According to Inspector Lejeune, Mark's late wife was named "Isla". Like in the original, she had died in a car accident in Italy while out with another man.
Late in the show, Miss Marple enlists him in the "sting" to expose the methods of the "murder-for-payment" scheme. Mark actually goes to make the "bet" with Mr Bradley with Ginger as the intended victim. According to Ginger, Mark played the part very well and completely convinced Bradley. Like in the original novel, Ginger pairs off with Mark at the end with characteristic encouragement from Miss Marple.
Other
In the 2020 BBC miniseries adaptation of the novel, Mark Easterbrook was portrayed by Rufus Sewell. Here he is the lover of Thomasina Tuckerton. His wife Doreen is renamed Delphine and dies of electrocution.