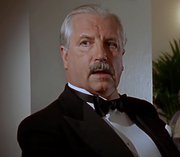 In the novel Evil Under the Sun, Major Barry is a retired military officer holidaying at the Jolly Roger Hotel during the events in the book. He is egarded as an old bore by most of the other hotel guests who have all developed conversational techniques to head off yet another of his endless stories and parallels from his time in India.
During the time of the murder of Arlena Marshall, he was at St. Loo. He had gone there to the post office there to make a phone call to a friend to place a bet on a horse. He told the police that the phone at the post office at Leathercombe Bay was not private enough. On the way back from St. Loo, he got lost and arrived at the hotel long after the murder. Barry was not able to name a specific individual at St. Loo to alibi him, but Colonel Weston, very familiar with old bores, did not seriously consider him a plausible suspect. Inspector Colgate did discover that sums of money had been paid into his account but thought they could well be winnings from horseracing bets.
Barry's address is given in the hotel register as 18 Cardon Street, St James, London S.W.1.
Portrayals
Major Barry was portrayed by Ian Thompson in Agatha Christie's Poirot episode ITV's 2001 adaptation of the novel. His backstory and role is slightly different. He is a retired military officer but there is not much in the way of old war stories. He appears sinister in that he tries to warn Poirot off by telling him that the hotel does not seem to be a good place to come to for one's health.
It turns out at the end that he is a Home Office official seconded to Scotland Yard for drug investigations and his marksmanship saves the day.