Welcome to the Agatha Christie Wikia! We are so glad you decided to drop in on the encyclopaedic home of the Queen of Crime! On this site you will find an ever-growing encyclopaedia of everything associated with Christie. If you're new to Christie's works and want to know which book to read first - it all depends!
Christie was a truly versatile writer, and her prolific literary career often overshadows her equally successful career as a playwrite. To this day Christie remains the only person to have three different plays running in the West End at the same time, one of which, The Mousetrap, is still running, now in it's 61st year! But the best way to enjoy Christie is to find your own favourites - and then discuss them with fellow fans. Why not download the complete chronological list of Christie's novels and short story collections and check off what you've already read? Alternatively Christie's grandson recommends his best Christie Novels.
Who was Christie's greatest detective?
Literature Authors
Go to these sites for info or for help with your own wiki!
Agatha Christie/Mary Westmacott • Dr. Seuss • Eric Flint • Harry Turtledove • Lemony Snicket • R.J. Palacio • Rick Riordan • Stephen King • Tamora Pierce
Want your community included? See how!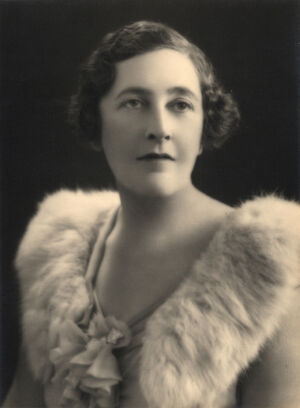 News
Academics create formula to find Agatha Christie killers She's known as the Queen of Crime for her tricky mysteries, but researchers use math to predict her plot twists.
UKTV channel Drama commissioned a team of university research fellows and data analysts to analyze 27 of Agatha Christie's 83 books, following in the footsteps of her two famous sleuths, Hercule Poirot and Miss Marple.
If Agatha Christie was alive today, she might be inclined to bump off the entire team of academics who've created a formula to predict the killers in the Queen of Crime's mysteries. Known for her red herrings, plot twists and knowledge of poisons, Christie's secrets are being spilled by the spoilsports who've figured out a formula to her crimes. Strangled corpse? Look for a male killer. Country house setting? A woman dunnit. Trains and automobiles point to a female criminal. Airplanes and boats indicate it's probably a man. In honour of her upcoming 125th birthday, UKTV channel Drama commissioned a team of university research fellows and data analysts to make guessing whodunnit a lot easier. They analyzed 27 of the writer's 83 books published in her lifetime, following in the footsteps of her two famous sleuths, Hercule Poirot and Miss Marple. "There's no way Agatha Christie is formulaic, she kept readers guessing," says Bahram Olfati, senior vice-president of Print at Indigo. The prolific writer threw so many twists at readers that when a new mystery novel comes along "there's a great chance she's already done it," he says. Growing up in England, he saw Christie's play The Mousetrap four times and fell in love with her mystery-writing skills. The fact that she is one of the book chain's bestselling authors, even though she's been dead almost 40 years, shows that new readers are constantly discovering Christie, he says. "The whole point of reading a mystery is to figure it out yourself, says Marzia Del Bianco, Toronto Public Library collections specialist. "That's why readers like her books; they are interested in sleuthing." She doesn't think fans would be interested in using an equation to solve a crime.
The key events in any Christie mystery are early discovery of the body, closed circle of suspects, the detective is introduced, clues abound, the crime is solved and the story is wrapped up quickly, the study says. Major findings: The victim is murdered early in the book, usually within the first 20 per cent. Female killers are featured in stories with car and train travel, while male killers are in books with nautical vehicles and aircraft. Most killers are spouses or blood relatives of the victim — spouses kill from love, relatives have other motives. Strangling is mostly a male method of death and if the killer is a doctor there's a strong probability of stabbing or strangulation. A country house setting means there's a 75 per cent chance that the killer will be female. Female killers are discovered due to a domestic item, male killers through information or logic. The academics created a mathematical formula where relationship to the victim, primary transport in the novel, sentiment of language used to describe killer, method, detective, setting, chapter of introduction of killer and number of mentions added up to a fairly predictable solution.
Create blog post
Yes. It was that family. You know them, don't you? The Dedlees-Leethels? The house down Elmurda Road? The mansion? No? Well, then they might do something behind your back! Be cautious, for their idiosyncrasies disguise their...you'd really thought I…

Read more >

(may contain spoilers - click on expand to read)

Read more >
See more >
Contribute to the Wiki!
We are currently housing 4,814 articles, and 1,289 files. We need YOUR help expanding and adding articles to the wiki!
---
---
If you're new to Wikia, please use the above links to get started.
Community content is available under
CC-BY-SA
unless otherwise noted.